Myers, Cats Withstand Tigers in Five Sets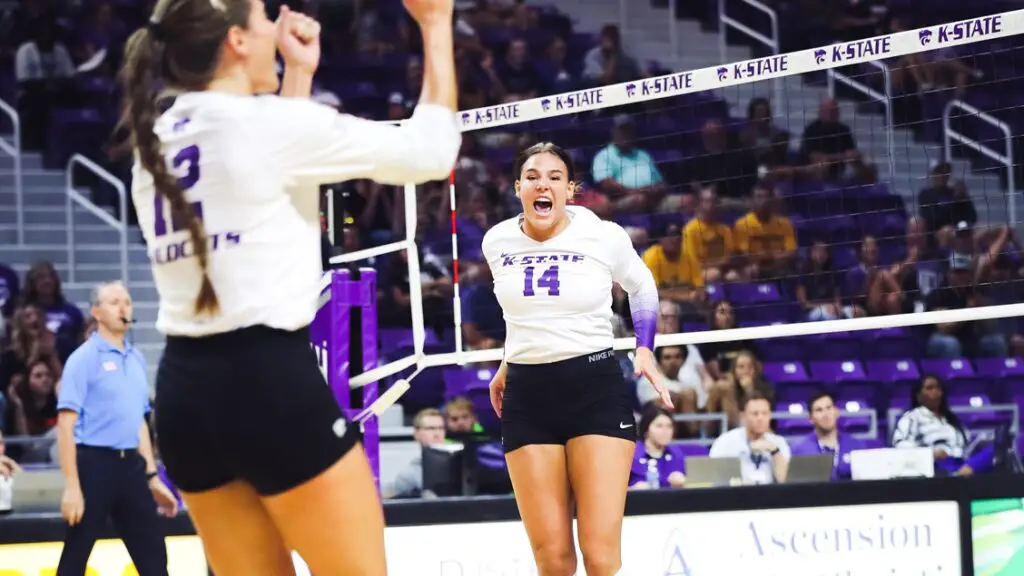 | | | | | | | |
| --- | --- | --- | --- | --- | --- | --- |
| | 25 | 14 | 26 | 25 | 10 | (2) |
| | 27 | 25 | 24 | 20 | 15 | (3) |
MANHATTAN, Kan. (Kansas State Ath – Led by 23 kills from Shaylee Myers and double-doubles from Elena Baka and Loren Hinkle, K-State outlasted its former conference rival Missouri in five sets Wednesday night at Bramlage Coliseum, 27-25, 25-14, 24-26, 20-25, 15-10.
K-State (6-1) finished the match with a wire-to-wire fifth-set victory after Missouri (4-3) rebounded to force a decisive frame down 0-2. Myers came off the bench to lead the Wildcat offense, hitting .419 in producing her career-high kill total.
Baka added 16 kills and a career-high 17 digs for her third double-double of the season. Haley Warner matched Baka's 16 kills for a season high, while Sydney Bolding added 10 kills and served up a career-high four aces.
K-State owned a 71-48 edge in total kills and hit .200 to Mizzou's .164. The Cats have held their opponents below a .200 efficiency in five of seven matches this season.
As a team, K-State registered 10 aces on the night – its third match with at least 10 service aces. Molly Ramsey pitched in three aces, also a career high.
Hinkle finished with the first double-double of her career, dishing out 41 assists along with 10 digs. Libero Mackenzie Morris registered 15 digs in reaching double figures for the seventh straight match.
Warner led the front line with seven block assists while Bolding finished with five. K-State ended the night with 10 total team blocks.
Anna Dixon led MU with 17 kills. Jordan Iliff was the only other Tiger to reach double-digits with 10. Kaylee Cox had nine kills and a match-high 21 digs.
K-State has won the last four meetings with Missouri and nine of the last 12 overall.
FROM THE HEAD COACH
Head coach Suzie Fritz
On responding after Missouri forced a fifth set …
"I thought we got pretty conservative. We made a setter switch, that's a coaching decision, I like Ava LeGrand, I think she's showing a lot of potential and improvement and we wanted to give her a chance to show what she can do. But I thought the offense got a little bit conservative. In that moment, we weren't getting the swings we were early, and I thought we got conservative with our serving, especially down the stretch in game four. We kind of flipped the script a little bit in game five, I thought we came out and serving was the biggest difference. That's where we were able to separate ourselves and score points from the service line. I thought that's when we were really rolling."
On her team playing conservatively in trying to close out the match…
"It's something you have to grow into. There's a mentality that comes along with big moments. When you're feeling a team make a run at you, how you manage the emotions and how you manage that moment, I think is something we are trying to grow into."
On Shaylee Myers' performance…
"She's been doing it every day, to be honest. She has earned some opportunities and I am thrilled that we have the outside hitting core that we have right now – with (Aliyah) Carter, with Baka, with Myers –all three give us something just a little bit different. We've got four matches in four days (this week) and to be able to use them all and keep them fresh is huge."
HOW IT HAPPENED
Set One – K-State 27, Missouri 25
K-State owned a 21-12 edge in kills in the opening set, but still trailed by as many as six in the latter stages at 18-12. A five-point run that included two kills by Warner and another by Myers, inched the Cats within a point.
Facing two set-point opportunities by the Tigers, kills by Baka and Myers evened the set at 24. After the teams traded points, back-to-back kills by Bolding and Myers completed a 5-1 closing run and handed K-State the opening set, 27-25.
Myers came off the bench midway through the set and put down five kills on six swings while Baka produced a team-high six kills.
Missouri picked up six blocks in the frame, with five coming in the Tigers' first 12 points. K-State was forced into 10 attacking errors while MU had just four.
Bolding and Warner teamed up for two blocks and Hinkle dished out 14 assists.
In total, the first set held eight tie scores and four lead changes.
Set Two – K-State 25, Missouri 14
K-State never trailed in building its two-set lead, as Myers picked up six more kills in the set on just 12 swings. Myers needed just nine attempts in picking up her first eight kills on the night.
The Wildcat offense doubled Missouri's kill production (14-7) while hitting .345 to Mizzou's .000.
Five unanswered points behind the service of Bolding broke a 2-2 tie and a 6-1 scoring run opened a 16-9 lead.
Warner added three kills on four attacks while Baka added a pair of kills and five digs.
Set Three – Missouri 26, K-State 24
Looking to close out a sweep, K-State's lead grew to as large as seven at 19-12 after a kill from Myers. The Tigers responded with the next three and nine of the next 12 points overall to claw within a point at 22-21.
Missouri, despite being outkilled 15-12, earned its first set win after an 8-2 closing run that was capped by back-to-back kills from Trista Strasser and Iliff.
Mizzou reached the .300 mark for the only time in the match, committing just three attacking errors. Dixon led the way with four kills on eight swings and Iliff contributed three kills.
Baka and Myers both finished with four kills to lead K-State. The Cats racked up five aces in the fourth, two each from Bolding and Ramsey.
Set Four – Missouri 25, K-State 20
The fourth set featured six ties and four lead changes, with the last tie coming at 11-11 as the Tigers scored six of seven to create a 16-12 lead.
K-State got as close as three points following Warner's fifth kill of the set at 23-20. Mizzou forced the final frame after outkilling the Cats for the only time in the match, 14-13.
Dixon led all players with six kills in the fourth while Warner added five. MU hit .238 to K-State's .154.
Set Five – K-State 15, Missouri 10
The Wildcats quickly raced out to 7-1 and the lead swelled to eight after a kill from Myers, 11-3, forcing Missouri to use both of its timeouts.
Myers' fifth kill of the set and 23rd kill of the night sealed the wire-to-wire set victory and handed K-State its fourth straight victory over its former conference rival.
MU committed five attacking errors while producing just three kills for a -.095 hitting percentage.
INSIDE THE BOX SCORE
K-State hit .200 as a team (71 kills, 33 errors, 190 attacks).
Missouri finished with a .164 hitting percentage (48 kills, 23 errors, 152 swings).
The Wildcats had four players in double-figure kills, led by 23 from Myers.
Baka and Warner each added 16 and Bolding finished with 10.
Baka added a career-high 17 digs for her third double-double of the season.
Myers' season-high kill total came at a .419 efficiency.
Hinkle finished with 41 assists and 10 digs for the first double-double of her career.
Bolding served up a career-high four aces while Ramsey added three.
The Cats reached 10 service aces for the fourth time this season.
Morris added 15 digs and an ace.
Warner had seven block assists while Bolding chipped in five.
Mizzou held a 16-10 edge in total blocks.
K-State has held its opponents below a .200 hitting percentage in five of seven matches this season.
Dixon led Missouri with 17 kills and added four block assists.
Iliff was the only other Tiger in double-figure kills with 10.
Cox had nine kills and nine errors to go with a match-high 21 digs.
NOTES
K-State leads the all-time series 43-34, dating back to 1974.
The Wildcats are 23-12 at home against the Tigers, as this was the first matchup in Manhattan since 2011.
The Cats have won the last four meetings in the series and nine of the last 12 overall.
The match marked the second straight season the former conference rivals have met after a 10-year absence following MU joining the Southeastern Conference.
Fritz is 42-23 against current members of the SEC.
K-State's 6-1 start is its best since beginning the 2018 season with a 10-1 record.
Bolding's four aces tied for fifth-most in a five-set match during the rally-scoring era (most since Morris did so last season).
The Wildcats now own four matches with 10 or more aces, their most in a season since 2007 and the second-most in a season in the rally-scoring era (seven in 2007).
The Cats are 1-1 in five-set matches this season and have played 39 five-setters since 2017 (20-19).
UP NEXT
K-State begins a six-match road swing at the Rambler Challenge, hosted by Loyola Chicago. The Wildcats will take on Rutgers (10 a.m.) and Loyola Chicago (7:30 p.m.) in a Friday doubleheader before finishing the weekend with St. Thomas on Saturday at noon. Rob Voelker will be on the call for all three matches in Chicago at K-StateSports.com/watch and the K-State Sports app. Friday night's contest against the Ramblers can be seen on ESPN+.