In-state 2024 prospect Jameer Moore recaps Kansas State visit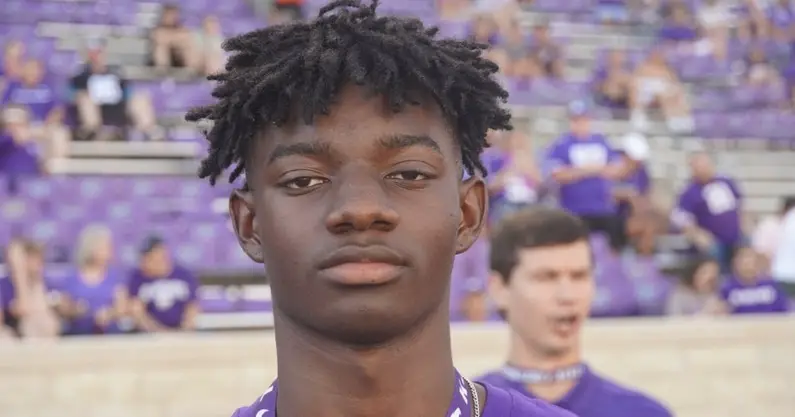 Originally posted on kstateonline.com
by Drew Galloway
Kansas State has only offered one in-state prospect in the 2024 class, and it was defensive lineman BJ Canady of Topeka High in April. Who else could be on their radar? Salina Central defensive back Jameer Moore is someone to keep in mind.
Moore possesses the height, length and speed the Wildcats look for in the secondary. He was also in attendance for K-State's 34-0 shutout victory over South Dakota.
"[The visit] was a great experience," Moore said. "I visualized myself in their shoes and it felt really good."
Watching the Kansas State defense first-hand stood out to the junior.
"Watching the game was my favorite part, especially watching my position play," he shared. "How aggressive [the corners]were stood out. Also, all the quick breaks to the ball."
It was a full day for the Salina product on his trip to Manhattan.
"I walked through the equipment and clothes the athletes get," Moore explained. "I saw past and present jerseys, found my height and weight, saw a few coaches and old players. We watched the team warm up and finally watched the 'Cats take a win."
Like with most in-state prospects, Taylor Braet is leading the charge in the pursuit of Moore.
"Our relationship is pretty good," Moore noted. "He brought me into the program in a way I could get comfortable, easily. We talk almost every day about the games and if I'm showing up [for a visit.]"
Last weekend was not the first time that Moore has been on campus. He attended the final camp of the Summer on July 29.
"The camp was great," he divulged. "There was lots of competition and learning opportunities. I took a lot from the camp. Coach (Van) Malone was really straight-forward. If you have questions, ask them. If you don't come to work, don't waste his time. He was a really good coach who I saw lots of interest in."
While at the camp, Moore was also able to speak to current K-State cornerback Julius Brents.
"I asked him a few questions since we look alike in height, length and speed," Moore pointed out. "I asked a few questions about problems we would both face."
Though he has plenty of time before making his college decision, he does know what he is looking for in a school.
"Somewhere I could excel best in my choice of field to study," Moore replied. "The atmosphere of the school and sports team has to be high. Mainly, somewhere I could get comfortable."
Moore will return to Kansas State and visit for the Missouri game as well on Saturday and is hoping to learn a few more things about the Wildcats.
"I'm looking forward to watching the game and my position play, meeting new players that come in and learning more about the program."