3-2-1: Shouldering the loss of an offensive line starter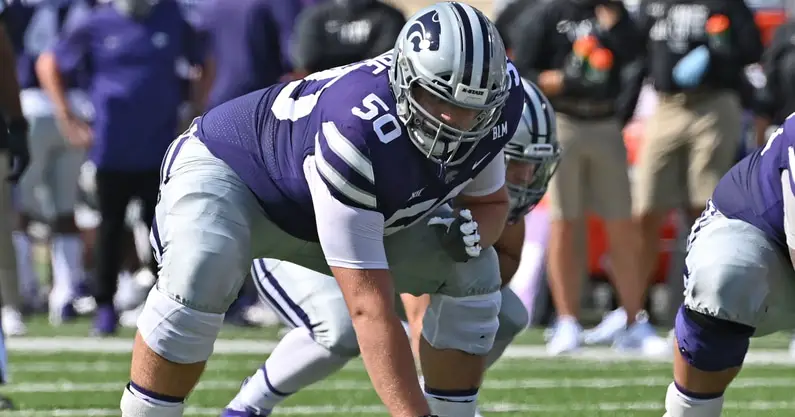 Originally posted on kstateonline.com
by Derek Young
1. OUT FOR THE SEASON: Unfortunately, Kansas State will be without the services of Taylor Poitier for the second consecutive season. After missing the entire year in 2021, he suffered an injury that will also keep him out for the rest of 2022. As head coach Chris Klieman accurately stated on Tuesday, sometimes the cruelest things happen to the best people.
2. NEW COMMIT: The Wildcats scored one of their biggest commitments of the 2023 recruiting cycle on Labor Day when defensive end Jordan Allen of Olathe South made the call. He picked K-State over Iowa, Iowa State, Missouri and USC.
3. RANDLE VISIT: After Allen's pledge, the most important chess piece left on the board for Kansas State is Wichita Heights running back John Randle, Jr. If it continues according to plan, the high school senior will be visiting Manhattan this weekend for the Missouri game.
No place like home…#EMAW #Committed pic.twitter.com/XtUlS5GVrS

— Jordan Allen (@Jordanallen2005) September 5, 2022
TWO QUESTIONS
1. ADRIAN MARTINEZ'S PASSING GAME: After throwing for just 53 yards versus South Dakota, it is a fair question. Personally, I am not as concerned as others. It seemed like a purposeful decision to play it conservative and be more mindful of ball security against the Coyotes. Adrian Martinez threw for 9.4 yards per completion a season ago. But they probably do need a rise in performance from the wideouts.
2. THREE WINS: Can the Wildcats defeat Missouri three times in a week? They already logged the win versus the Tigers for Jordan Allen. The football teams play one another on Saturday, of course, but there is a basketball recruiting battle being waged as well. Though his decision date isn't until September 26, Jerome Tang and company hope to outlast Dennis Gates and close on Macaleab Rich during his visit this weekend.
ONE PREDICTION
1. OFFENSIVE LINE: While I understand the consternation after losing Poitier for the season, I am not sounding the alarms on my end. There's a lot of teams that can't stomach losing one lineman. K-State has built its roster in a way where they could probably sustain even another setback to the group, though I hope it doesn't reach that point. The starters are expected to be KT Leveston, Cooper Beebe, Hayden Gillum, Hadley Panzer and Christian Duffie. If need be, they could still slide Panzer to center if they want and insert Andrew Leingang at guard. They could also have Leingang play left tackle or Beebe slide back out to tackle and stick Leingang in at guard. Quietly, Leingang has become a vital part of this year's team.