Reasons to hope and mope: Week 2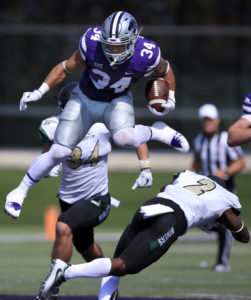 It was a rather easy and workmanlike blowout victory for No. 19 Kansas State against Charlotte this weekend. Here are some positive and negative takeaways. For a full recap of the game and a video wrap-up from our crew, click here.
REASONS TO HOPE
1. K-State's running game is back.
Even though it came against a lesser opponent, there was a lot to like with how the Wildcats ran the ball Saturday. They totaled 304 yards on the ground, led by Alex Barnes' 99. What I liked was that K-State managed to average six yards per carry without the benefit of a "huge" run — Jesse Ertz' 35-yard touchdown was the longest of the day.
Justin Silmon is expected to make his season debut next week, which will add another dimension to an already deep group.
2. The secondary may have more depth than we thought.
Duke Shelley did not play against Charlotte (more on that later), but his replacement, AJ Parker, did a very nice job filling in for him. In the Big 12, you can never have too much depth at cornerback.
Also, backup safety Eli Walker looked like the real deal. He played in the 4th quarter for a second straight game, and delivered some of the big hits that Bill Snyder told us he likes to make.
3. So far, Jesse Ertz has done exactly what great quarterbacks do.
As pointed out by our friend D. Scott Fritchen, the only two quarterbacks in K-State history that have led their team to 50 points in the first two games of the season were Michael Bishop and Collin Klein. You can now add Ertz to that list.
He's been composed, accurate, and — maybe most importantly — healthy. He also didn't seem to miss his No. 1 receiver on Saturday, Byron Pringle.
REASONS TO MOPE
1. K-State simply hasn't been put to the test yet.
Central Arkansas was a solid FCS team that could give a couple Big 12 squads some trouble. Charlotte, however, was simply bad. So far, all we know for sure is that K-State might be good. The Wildcats' first real opportunity to prove it comes next week. K-State is favored by 3.5 points over SEC foe Vanderbilt.
2. Whether injuries or suspensions, the team's arsenal isn't at full power.
The following players have missed at least one of K-State's two games this season: Justin Silmon, Dominique Heath, Alex Delton, Byron Pringle, and Duke Shelley. We haven't received much concrete information as to why they've been out, but no matter the reason, it's not ideal.
Additionally, Dalton Risner was injured in the first quarter Saturday and did not return. His status moving forward is also unknown.