The Powercat Gameday Panel is back again to field your questions about K-State football. Kansas State welcomes Texas Tech to Bill Snyder Family Stadium Saturday for its home Big 12 opener at 6:00 p.m. CT.
The crew will be broadcasting live in Cat Town, just southwest of BSFS. Come stop by or tune into Powercat Gameday live on KMAN starting at 2:00 pm CT.
Thanks as always to everyone who submitted a question to this week's Powercat Gameday Panel. To submit a question tweet us at @PowercatGameday or to any of the panelists: @jlkurtz, @Cole_Manbeck, or @StantonWeber.
Let's get started:
@jlkurtz @PowercatGameday Have Big12 DCs figured out Dimel's audible tree, "if we show this, KSU will audible into that" to their advantage?

— ksuhamburglar (@ksuhamburglar) October 3, 2016
John: I'm sure there's some truth to this, but I don't think it's unique to just K-State. As Stanton mentions, everyone is pouring over film for hours and hours to find these types of advantages. I highly, highly doubt that this is anywhere near the main reason K-State has struggled on offense. I'd venture a guess it has much more to do with the fact that right now K-State is far too hurried the majority of the time that they are getting snaps off. There were a number of plays on Saturday that seemed doomed from the start because the offense was in such flux trying to get the ball snapped on time. You have to keep in mind that there's basically three new offensive linemen and a new quarterback out there trying to figure this all out. Not an excuse, because the offense clearly has to get much better than it is, but just pointing out the reality facing K-State right now. The bottom line is the offense needs to strike a balance between finding the perfect play and finding a good play that can be executed consistently.
Cole: Terrific question, and I'll point to Stanton on this one as he has a little better idea than me. But I also agree with John. K-State has to stop changing plays with less than 10 seconds on the play clock. It really puts your quarterback and offensive players in a bad situation when you're scrambling to change a play, get everyone in the right spots and get the snap off in time — especially on the road with the crowd noise. I think K-State tends to overthink itself at times trying to get in the best play possible.
Stanton: This is a great question, one that head football coaches around the country are asking themselves. It's the reason that coaches watch hours of film. "If our defense shows them 'this,' they always go to 'this.'"
With game weeks being bunched together in the fall, there is intensive preparation for the next opponent set into motion the morning after games. There is more work to do than there are hours in the day just to prepare for the opponent. Despite this, coach Bill Snyder and his staff find a way to dissect weaknesses of their opponent week after week. But something that coach Snyder thinks of that many coaches may not is that he takes time in the offseason and during each game week to take an extensive look at his own team. He employs his staff to "self scout," or try to pick apart trends that K-State has shown throughout the previous weeks and tailor its game plan to minimize the weaknesses and keep their opponents on their toes.
Make no mistake, with the trend in college football of no-huddle offenses and calling plays from the press box that get signaled in after the defense has shown its hand, college football coaches across the country are looking for any kind of advantage to win the chess game that checking at the line of scrimmage has become. Fortunately, K-State fans can rest assured that the coaching staff is taking every precaution to eliminate the possibility of an opponent taking advantage of their tendencies.
@PowercatGameday With Tech's sluggish defense, what are some key aspects our offense can focus on during game time to improve?

— Korby Anderson (@k_andyson) October 5, 2016
Cole: K-State attempted 11 passes of 25 yards or more against West Virginia last Saturday. I'd suggest not doing that again. As Stanton mentions below, throw some shorter passes to get Ertz some confidence early in the game — maybe a screen pass, if that exists.
The Wildcats should be able to do anything they want against this Tech defense. The Red Raiders allowed 301 yards rushing and 5.7 yards per rush against Arizona State. Louisiana Tech rushed for 263 yards and 7.2 yards a carry against Tech. Those two teams also combined to completed 70 percent of their passes for 662 yards, five touchdowns and zero interceptions. If the Wildcats are going to be an average offense at the bare minimum, then they better be able to dominate Tech's defense or it's going to be a long season.
Stanton: Among other things, I think It's going to be very important for K-State to improve its passing efficiency. The 10-for-30 clip against West Virginia is not going to win you many ball games. I would like to see Jesse Ertz and the receivers get into a rhythm early with shorter, high percentage passes. As the shorter passes are established K-State can take its shots down the field with play action. K-State getting back into its game is something that I want to see this week after it felt like the Wildcats got away from what they do best (establish the run, control the clock, and pick their spots in the passing game).
John: I'll take all of the above. It would be nice to see the run game get going against a Power 5 opponent. The Cats have averaged just 2.9 yards per carry in games against Stanford and West Virginia. Especially in a game where the offense can help the defense out so much by controlling the clock against a fast-paced, spread offense, the run game should be crucial.
At the same time, this has to be a game where Jesse Ertz establishes that he can definitely be the guy at quarterback. Bill Snyder already fielded questions this week at his press conference about if he would make a change if Ertz continues to struggle. I'd have to think winning the job two years in a row has given Ertz a fairly long leash, but Snyder made sure to point out that any position is a constant competition.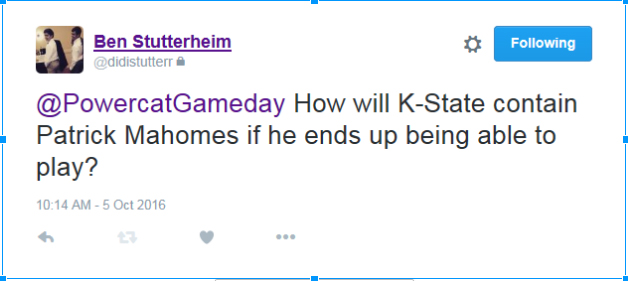 Stanton: I think the most important thing you can do as a defense against a quarterback like Patrick Mahomes is don't allow him to dictate the game. Mahomes and head coach Kliff Kingsbury are lethal when they are in a rhythm. Kansas State must force incompletions, sack Mahomes, and hit him so hard that he regrets every time he tucks it down to run. Easier said than done but this will be a fun matchup to watch.
John: I'm glad that you used the word "contain" instead of "stop." He's a guy that put up an average of 393 total yards per game last season and is already averaging 412 yards per game this season in four games. The good news is, with a sprained AC joint in his shoulder he should be less willing to run the football. That's essentially the same issue that Jake Waters had in 2014 when he became much less willing to take off and run. Mahomes' ability to run is one thing that seems to set him apart from the average Texas Tech quarterback. If he's forced to become more one-dimensional, it gives K-State's bend but don't break style of defense a better shot at being successful. I think you basically look at the blueprint from the West Virginia game and apply it to this one. Force a few turnovers, force field goal attempts and perhaps some turnovers on downs.
Cole: One of the things that makes Mahomes different than previous Tech quarterbacks is his mobility. In his three years at Tech, he has rushed for 725 yards (including lost yardage from sacks). So K-State will have to keep him in the pocket as best as they can. That being said, I'm not sure he's going to be looking to run much if he plays as he's coming off a shoulder injury last Thursday against Kansas.
One of K-State's strengths is its pass rush from the front four. Unfortunately, Tech quarterbacks typically get rid of the ball quickly so getting consistent pressure will be a challenge. The Red Raiders have allowed a sack on 4.6 percent of their passing attempts this season. To compare, K-State's offensive line is allowing a sack on 13 percent of its passing attempts — a significant problem going on two seasons now, but that's not what you asked.
Mahomes is completing a career-best 73 percent of his passes for 10.7 yards a pass attempt. But a couple things going in K-State's favor is Mahomes hasn't faced a defense as good as K-State's yet, and he also struggled on the road last season. The junior quarterback recorded 26 touchdowns to just four interceptions at home last year, but had 10 touchdowns to 11 interceptions on the road.
He will present a lot of challenges for K-State's defense, but making Mahomes and the Tech offense one-dimensional will be a start. The Red Raiders were terrific at running the football last year but not so much this season. In 2015, Tech averaged 5.4 yards per carry, ranking 14th in the country and its 191 rushing yards a game ranked 40th nationally. This season, Tech is averaging just 4 yards per carry against FBS opponents, ranking 94th nationally and just 117 rushing yards per game, ranking 117th out of 128 FBS teams. K-State needs to eliminate the Red Raiders' running game.
@PowercatGameday will the defense be the best in the big 12?

— Marcus (@KSU_LYNCH_MOB) October 4, 2016
John: They took a big step towards legitimizing themselves in that regard on Saturday as far as I'm concerned. I wanted to see them back up what they'd done so far against a legitimate spread offense, and they definitely did that against West Virginia. It was bend but don't break defense at it's finest in the world of high-flying Big 12 offenses. They forced a missed field goal early, got a turnover on downs and forced two turnovers as well. This resulted in holding West Virginia out of the endzone until early in the fourth quarter.
Statistically right now K-State is leading all the major defensive categories by a substantial margin. That can definitely change, especially with the top-ranked scoring offense in the country coming to Manhattan this week, but I seriously doubt K-State finishes outside of the top three in the conference by the end of the season.
The two things they continue to do consistently that really legitimize their efforts are forcing turnovers and getting to the quarterback. It was impressive to see the three sacks they got on Skyler Howard, but that doesn't even tell the whole story. They were clearly disrupting a majority of the pass plays for the Mountaineers during the first three quarters.
Cole: I certainly think it's possible. K-State's defense had a stretch where it allowed just one touchdown in nine quarters of football prior to the fourth quarter at West Virginia. The Wildcats are only allowing 1.32 points per opponent possession, ranking 15th in the country and No. 1 in the Big 12. That number is going to increase as Big 12 play continues, but it's still quite an improvement from the 2.60 points per possession K-State allowed last season.
K-State's ability to get pressure with its front four is my favorite thing about this defense. Jordan Willis is a stud, Tanner Wood is solid, and Reggie Walker is going to be a stud. The Wildcats sacked Skyler Howard three times Saturday. He'd only been sacked once all season heading into last Saturday's contest, and that single sack was a 1-yard loss. Not only that, but K-State forced Howard into several rushed throws with its pass rush.
Stanton: K-State's defense passed another test this past weekend. The front seven found success against an offensive line that had only given up one sack all season, they forced turnovers, and kept their team competitive throughout the game. What more can you ask for from a defense living in the world of the high flying offenses of the Big12? This week will be their toughest test of the season thus far as, statistically, the top offense in the country comes to Manhattan. The game against Texas Tech will be a good gauge of whether they are just a good defense or among the elites. If K-State can stay healthy throughout the entirety of the season, I like their chances of finishing in the top three.
@Cole_Manbeck @PowercatGameday Worse no call – Byron Pringle at Stanford or Jordan Willis at West Virginia?

— Kellis Robinett (@KellisRobinett) October 5, 2016
Cole: A very astute question. I know holding calls occur all the time and many are missed. But I have no idea how Cooper Castlebury missed the hold on Willis Saturday. First of all, holds on the interior of the line tend to get missed more frequently than on the outside. In this instance, the quarterback is rolling to the right and is outside the tackle box. So the tackle is on an island against the best defensive end in the Big 12. Willis was not only held once on the play, but twice. It was an obvious call that should have been made.
West Virginia may have still scored a touchdown, but it would have been 2nd-and-17 and remember, the Mountaineers may have kicked a field goal if K-State forced them into a fourth down. There were 7 minutes remaining in the game, West Virginia had two timeouts, and a field goal would have made it a 3-point game. Considering the way K-State's offense was playing, I have to figure West Virginia would have taken the 3 points if K-State held them and the Wildcats would have still led.
Stanton: The Jordan Willis call hurt more but there are not many missed calls more blatant than the MMA style takedown that Stanford defensive back Alijah Holder executed on Byron Pringle. I am going to answer this one as if I was the director of officials, and I can't find an excuse for the back judge that was standing in the corner of the endzone to miss that call. I don't know what else he could have been even looking at. You could argue that Jordan Willis was being held right in front of the referee but I think holding calls get missed much more often than the kind of contact we saw on Pringle.
John: I know the Pringle call was much more obvious, but I have to go with the hold on Jordan Willis. That's simply because it was a very impactful play in the game. It was 2nd and goal from the seven yard line. A 10-yard penalty from the spot (a few yards behind the LOS) all of the sudden makes it 2nd and goal from around the 20 yard line. That's far from a given that West Virginia punches it in at that point, especially the way the K-State defense played most of the game.
Alas, we'll never likely know how and why that call was missed. Willis didn't get any kind of explanation himself when he tried to plead his case and I wouldn't expect any kind of definitive answer from the league to come back to K-State.
@PowercatGameday Bill Snyder has not lost to Texas Tech in Manhattan in 4,357 days. Does this streak continue come Saturday?

— Patrick Hines (@patemaw7) October 3, 2016
Stanton: Texas Tech is one of the teams in the Big 12 that just never seems to play very well in Manhattan. That is the biggest reason that I think K-State gets it done Saturday. If this game were in Lubbock I would be on the fence. Offensively, K-State has a lot to prove this week, they need to find an identity and a rhythm that they can move forward with. On the defensive side this is a really intriguing matchup of potentially the best offense K-State will see this year against what appears to be one of the best defenses in the Big 12. A victory for the Wildcats this week is critical and, with the help of a loud home crowd, I think Coach Snyder's streak continues.
John: I'd imagine so. Vegas certainly likes K-State…they've pegged the Cats as 7 to 7.5 point favorites in this one. Much like the West Virginia game, these teams seem to be fairly similar in terms of where they fall in the Big 12 pecking order this season. The big difference here is that K-State is the home team.
It has all the makings of a get right game for the offense. It's hard to decipher whether it's purely a matter of the competition or not, but for what it's worth the offense has been much sharper at home. Combine that with a porous Texas Tech defense that 68 points to Arizona State, 45 to Louisiana Tech and even let Kansas' offense look like it has a pulse, and I think the Wildcats should have plenty of success.
Cole: I see what you did with the numbers there. Of course, Snyder has only faced Tech at home twice since 2005 — a game K-State lost 35-25. But to answer your question with a simple answer, K-State will win this game.