Welcome back to the Powercat Gameday Panel, where the hosts of @PowercatGameday answer your K-State football questions every game week. This week, the 5-3 Wildcats host the 6-2 Oklahoma State Cowboys, in what should be one of the best games on this week's Big 12 slate.
To submit a question, tweet the panel at @PowercatGameday or any of our panelist: @jlkurtz, @Cole_Manbeck, or @StantonWeber. Thanks to everyone who submitted a question this week, we appreciate your involvement and hope you have as much fun with it as we do.
Powercat Gameday will be live in Cat Town, just Southwest of Bill Snyder Family Stadium, at 10:30 AM on Saturday. Stop by or tune in on KMAN while you tailgate or drive to the game.
Let's get to it:
@PowercatGameday do you think after last week at Iowa State that Alex Delton will see more action on the field verses OSU?

— Andrew (@andrew_eilert31) November 1, 2016
John: I think it's certainly possible. Bill Snyder and some of the players after the game were very complimentary of the job that Delton did when he was in the game. Dalton Risner went out of his way to mention that Delton had great command of the huddle, which should mean something coming from a team captain. Then Snyder said this Tuesday at his press conference that they trust Delton to do much more than he was asked to do on Saturday in Ames. There seems to be plenty of confidence from the coaching staff and team in letting him get increasingly more involved.
It was encouraging in general to me that the offensive coordinators opted to get Delton some snaps in a road conference game when the outcome was still very much in doubt (Delton first got in the game with the score just 10-3 in favor of K-State). We've heard for years about different wrinkles that the offense could possibly use to become more explosive, but rarely do we ever see them put into action. It's clear that his explosiveness and athleticism can be an asset to the offense, now let's just hope their package for him continues to evolve.
Cole: Yes, particularly against teams who struggle against the run, which Oklahoma State does. Iowa State's defense was yielding 5.3 yards per rush heading into last Saturday's game. The Cowboys are allowing 4.9 yards per rush, ranking 94th nationally. So there will be some opportunities to insert Delton into the game Saturday and I would be surprised if he doesn't see the field for at least a few snaps. At worst, Delton playing a few snaps in Ames gives Oklahoma State something else to prepare for this week.
Stanton: I think it's safe to assume that we will see Alex Delton used again against Oklahoma State. Will he be given more snaps? I don't know but I would guess no, I think he'll probably get a similar number of snaps. Now will we see the package used more dynamically? That's a more interesting question. Spending a season practicing with Alex Delton, I can tell you this, he can throw the football. In the Wildcat package we will start to see some more creativity, Coach Snyder even alluded to this in his press conference.
I was happy to see Delton get an opportunity to contribute, he is one of the hardest workers on the team who will do whatever the coaches ask of him to help the team win. The quarterback run game is often countered by the defense bringing an extra guy into the box, meaning one less defender in the secondary, forcing the defense to play a much simpler coverage. The simplicity in the back end of the defense will give an inexperienced Delton the chance to have straightforward reads in the pass game. He has the ability to throw, and when K-State shows this, opposing defensive coordinators will be allocating valuable practice time to preparing for a dual threat Wildcat package.
@PowercatGameday A frustrating win. Four games now with a 4th Qtr collapse in all phases of the game, one cost us a win against WVU. Why?

— Scott Carrigan (@SACWLDCT87) October 30, 2016
Cole: It's unusual for a K-State team to struggle after halftime. We all know Snyder's tremendous career record when the Wildcats are leading at the half. Not only that, but one thing you could typically count on from Snyder-coached teams is to make great adjustments at the half and come out firing on all cylinders in the second half. That hasn't been the case this season or in 2015.
Here are the numbers: K-State's offense against FBS opponents this season is averaging 20 points per game in the first half, ranking 25th in the country and fifth in the Big 12. In the second half, the Wildcats' offense is only averaging 10 points on the season, ranking 102nd nationally and ninth in the Big 12. These numbers are particularly concerning when you take into account the number of times K-State defers and gets the ball to start the second half, so the offense has an extra possession in the second half more often than not. The offense in the second half is the bigger issue. It's almost like K-State plays not to lose in the second half.
Defensively, K-State is allowing 11 points per game in the second half against FBS opponents, ranking 34th nationally and second in the Big 12. The defense allows 13 points in the second half, so not a huge disparity. Although the defense really struggled in the second half against Iowa State.
To sum it up, I'd lay more of the blame on the offense for the late collapses. It's certainly frustrating for all three Big 12 victories to come down to having to recover an onside kick to seal it.
Stanton: As players, we always prided ourselves on finishing strong. It was a theme that was emphasized from the first summer workout to the bowl game, and every day in between. I can still hear Ryan Mueller yelling at the team as we put our hand down to run what felt like our 100th sprint of the workout, "Finish!" This year has been disappointing in that department. Cole does a nice job breaking down the numbers above. I have no doubt that Coach Snyder is addressing the lack of finish in this team.
I think the possible reason for the lack of finishing stems from last year. Winning is a culture, something that is passed along through experience of not only players who are out on the field but also those who are next in line. For many of the players out there, their only experience at K-State was last year. These young players are seeing success for the first time. Football teams need to learn how to win, and the dip in success that K-State experienced in 2015 may have left a void in the development of confidence for the next guys in line. This year's team is taking steps to reintroduce that winning culture but not without growing pains.
John: We've now seen all three of K-State's Big 12 wins come down to an onside kick, and in all three cases the Wildcats had those games in control. Bill Snyder has been frustrated with his team's ability (or lack thereof) to play an entire sixty minutes the whole season. If you think back to the FAU game, Snyder was even upset with the way K-State came out in the 2nd half after a dominating first half. This certainly isn't a new trend with this team by any stretch of the imagination.
A theory that I would subscribe to is simply that this team is very young. The season-opening depth chart had more underclassmen (24) on it than any Bill Snyder team ever at K-State. More underclassmen started the season opener than any other K-State team since 1997. Linebacker Trent Tanking showed up to the press conference this week and mentioned that he got the feeling that a lot of guys relaxed too much after the Wildcats went up 31-10 in Ames. I'm sure there's more of a tendency for this team to do that than some others in the past because of all of the youth. This team isn't talented enough to simply show up and dominate, so it's easy to see how they could let teams back into it if their focus isn't into it for a stretch of the game.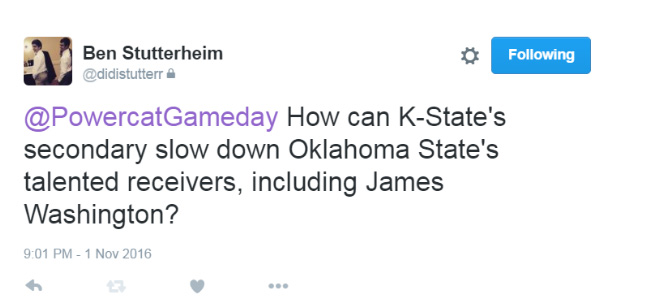 Stanton: "Slow down," is a good way to ask this question because I don't think anyone could stop this group completely. Oklahoma State's passing game is lethal and K-State's defense has been susceptible to just that this season. Cole goes very in depth with the numbers below. As for my take, I have been very impressed with the ball skills from our corners this year. DJ Reed and Duke Shelley have done a really nice job of taking chances and capitalizing with pass breakups and interceptions. I think the key to slowing down the Cowboy offense this weekend is those two guys, along with Dante Barnett and Kendall Adams, forcing turnovers. We could use a performance like Allen Chapman's against Oklahoma State in 2012, where he hauled in 3 picks.
John: K-State's secondary has certainly had their struggles this year, and they're obviously not the strength of this defense. What this defense does have going for it though is a great pass rush. This is a game where Jordan Willis and company have to shine. Mason Rudolph isn't a real mobile quarterback by any stretch of the imagination, so the opportunity should be there to disrupt him. It may take a second quarter at West Virginia type of effort from the front seven to generate pressure on the Cowboys if the Wildcats want to win this game. That quarter of football was about the most dominant stretch of Jordan Willis' career. He was constantly getting into the backfield and making Skyler Howard uncomfortable. Willis was actually pretty quiet as far as the pass rush was concerned last Saturday in Ames, and that can't be the case this week.
Another big key would be to force a few turnovers. The Cowboys are leading the Big 12 in turnover margin right now. That's partially because they always seem to have a very aggressive and opportunistic defense, but they're also pretty good at taking care of the ball. K-State is actually the only team in the Big 12 that has fewer turnovers than Oklahoma State. Sometimes the aggressiveness of K-State's corners can be a problem, but it can also produce plays like DJ Reed's pick six against Texas Tech. A play or two like that would go a long way on Saturday.
Cole: This is going to be a big challenge for a K-State secondary that is really struggling. The Wildcats are 107th nationally out of 128 FBS teams in pass efficiency defense, and in Big 12 play only, are allowing 8.7 yards per pass attempt.
Iowa State's 339 yards passing last Saturday were a season-high for the Cyclones, and the numbers could have been much worse had Iowa State not dropped a wide-open 50-plus yard pass that would have been an easy touchdown. The Cyclones attacked K-State's secondary over the middle of the field and down the seams. Oklahoma State likes to do the same. I rewatched the Cowboys' victory over West Virginia Saturday and they ran several quick slants over the middle of the field. If K-State plays soft in coverage, Oklahoma State will attack with that.
In addition, the Cowboys will challenge you with the deep ball and have one of the best passing quarterbacks in the country in junior Mason Rudolph. The following comes from a season preview of Oklahoma State from Pro Football Focus:
"Quarterback Mason Rudolph is far and away the star of this team. He's a sleeper Heisman candidate and should be even better this year. His passing grade last year is the highest among all returning quarterbacks in the NCAA. Last season, only Connor Cook (Michigan State) was more accurate on deep throws than Rudolph's 57.3 percent rate. He's also very good under pressure, his 64.1 adjusted completion percentage when faced with pressure ranking third among returning Power-5 QBs in the nation."
Rudolph's numbers are staggering. He has 17 touchdowns and just two interceptions on the season. The Cowboys have the second-fewest interceptions thrown in the country this year. Over Rudolph's last 14 games dating back to last season, he has 29 touchdowns and just four interceptions.
You mentioned Washington and he's certainly a threat. No player in college football who had 40 or more receptions last season averaged more yards per catch than Washington (20.1). The junior receiver has 124 receptions in his career and has averaged 19.4 yards per catch on those receptions. He's a great player and certainly a big-play threat.
Now, you asked how do you stop them? You have to generate a pass rush and make Rudolph uncomfortable in the pocket. The Cowboys have allowed 24 sacks on the season, an average of three per game, which ranks 112th out of 128 FBS teams. So you can get some pressure on him. But the Wildcats' front four will have to be much better than they were at Iowa State and K-State's safeties will have to be significantly better helping over the top in coverage.
@stantonweber @PowercatGameday with a former assistant coach on the sideline for OSU what adjustments do KSU coaches have to make?

— Jacob Yingst (@JacobYingst11) November 2, 2016
John: I'd guess Stanton will be able to provide a much more in-depth answer to this one. The only thing I would say is that Joe Bob Clements has been gone for four seasons now, so any adjustments in that department have probably already been made. Another thing to keep in mind here is that most of the players that Clements knew from his time at K-State have graduated, so any advantage he would have in that regard is probably neutralized.
Cole: I'll defer more to Stanton on this one, but I would guess K-State's coaches have taken care of this previously. This is Joe Bob Clements fourth season at Oklahoma State since departing Manhattan and this weekend will be the fourth time the Wildcats and Cowboys have played since he left. I would like to think all of the hand signals and other adjustments have been changed since he departed to account for this.
Stanton: With a coaching tree as impressive as Bill Snyder's, he is no stranger to facing off against coaches who both coached and played under his system. As a player, we had a handful of games against former Snyder coaches, including coaches that had left the program while I was a player (Michael Smith at Arkansas and Joe Bob Clements at Oklahoma State). With as much film as college coaches watch, and the familiarity they have with conference teams, any specific advantage that the presence of Joe Bob Clements on the Oklahoma State sideline brings is nominal. Since there is very little turnover in the K-State staff, Coach Clements may have some familiarity with tendencies of the Kansas State coaches, but Coach Snyder takes this into account for all his opposing coaches.
Every year, the K-State coaches dive into an in-depth scouting project of themselves, breaking down their own coaching styles and play calls. Bill Snyder doesn't take anything for granted, he has compiled all the information that opponents could possibly have on the Wildcats. This allows K-State's decision making to take into account what the opponent thinks that Wildcats will do.
With a play clock of just 40 seconds, try coming to a definitive decision in that mental chess match.
The fact that this information is in the possession of the K-State coaches allows any kind of specific adjustment to the team's preparation, due to playing a former coach, to be mininal.
@PowercatGameday @stantonweber K-State gets bowl eligible after Saturday?

— Marcus (@KSU_LYNCH_MOB) October 31, 2016
Cole: I believe they do. K-State is favored by 3, which surprised me a bit. The odds are against the Wildcats. They haven't beaten a ranked team at home since defeating Texas in 2012. Since then, K-State is 0-6 against top-25 opponents in Manhattan. The Wildcats are also just 2-13 against ranked foes since the start of 2013.
Oklahoma State is 7-1 over its last eight true road games and have a 50-6 record against unranked opponents over its last 56 games. Despite all of these numbers, I have to go with my gut and do feel like the Wildcats get it done at home.
Stanton: Since 1988 Oklahoma State has only won in Manhattan one time (2010). Sounds a lot like what we were saying about Texas two weeks ago. The Cowboys struggle to win in Manhattan. Before the Texas game I predicted K-State would go 3-0 in the three game stretch ending with Oklahoma State. I stand by that prediction but this will be the Wildcats' toughest test of those three. K-State has momentum, and the fact that the game is in Manhattan makes me go with K-State.
John: Wow…Cole has gone from predicting K-State to lose at home to Texas to now predicting a win against a ranked Oklahoma State team. Not sure if that's a bad omen or not.
I realize that K-State is technically the favorite in this one, but this would be a much better win than any of the five that the Wildcats have to this point. K-State's seasons over the last four years have basically consisted of beating nearly all of the teams they should beat, and losing to teams that appear better than them on paper. The only two ranked teams K-State has taken down since 2012 are #25 Texas Tech in 2013 and #11 Oklahoma in 2014. Make no mistake, Oklahoma State is much better than Texas, Texas Tech and Iowa State. K-State is going to likely have to play their best game of the season to win this one.
Having said all of that, the Cowboys don't often win in Manhattan. Their only win in recent memory here was back in 2010, and the home team is 10-2 in the series since the Big 12 formed in 1998.
As for my prediction on the game, you'll have to tune in to Powercat Gameday from 10:30 to 12:30 on Saturday to hear it…(how's that for a plug)?
@PowercatGameday Do you think the BigXII's decision to go without divisions increases national title possibilities for the league?

— Korby Anderson (@k_andyson) October 31, 2016
Stanton: First off, I don't think a conference championship game is necessary when you already play a round-robin schedule. The money is good for the conference but, from a competitive standpoint, I don't support something that deemphasizes the regular season when you play everybody.
The decision to have the top two teams play in the Big 12 championship game will result in the best matchup possible for a national audience. Although, will it result in the Big 12 maximizing their national championship possibilities? Some would argue yes, I am split, and since the other guys took the stance that it does help, I will play devil's advocate.
When you look at the other major football conferences, the chances of their conference championship games being played between their two best teams are slim. Due to divisions, the best team in each conference plays a 13th game against likely the 3rd,4th, or, in the SEC's case this year, 6th best team in their conference. From the perspective of the Big 12's ultimate goal of getting into the college football playoff, their best team will have the toughest road in the conference championship week relative to the other major conferences. Upsets in the Big 12 championship game could leave the conference, once again, on the outside looking in.
John: I still don't at all agree with the decision to play a conference championship game, but I do think going without divisions better accomplishes the league's goal of adding another marquee game to help out potential playoff contenders.
It's pretty simple: you're ensuring that the top two teams in the league will play that game. If you went with divisions, there's obviously no guarantee that you're getting that matchup. I still think the addition of the championship game will do more harm than good in the long run with potential playoff teams getting tripped up in a game that they wouldn't really have to be playing, but the damage has already been done.
Cole: Yes, I do. Divisional play is advantageous for K-State more often than not because it gives you a chance to play for a conference title and get to one of the big six bowl games if you win it. As an example, in 2009, K-State played its season finale at Nebraska and entered the game with a 6-5 record. Had the Wildcats won, they would have won the North Division and played for a conference championship with a 7-5 record overall. So in that sense, divisional play can help.
But by staying away from divisions and playing the two best teams in the championship game, you provide almost a sure-fire opportunity to earn another marquee win, something less likely with divisional play. Had TCU and Baylor played a title game against each other as the two best teams in the league in 2014, it's almost a lock one of them would have been in the college football playoff. So I'm in favor of no divisions if you're wanting a team in the playoff.
However, there are other viewpoints to this. I'll point you to a column written by Dennis Dodd this summer about the prospects of a conference title game for the Big 12 and what divisional play would have meant for the Big 12 and hopes for getting in the college football playoff.