Kansas State players of the game versus South Dakota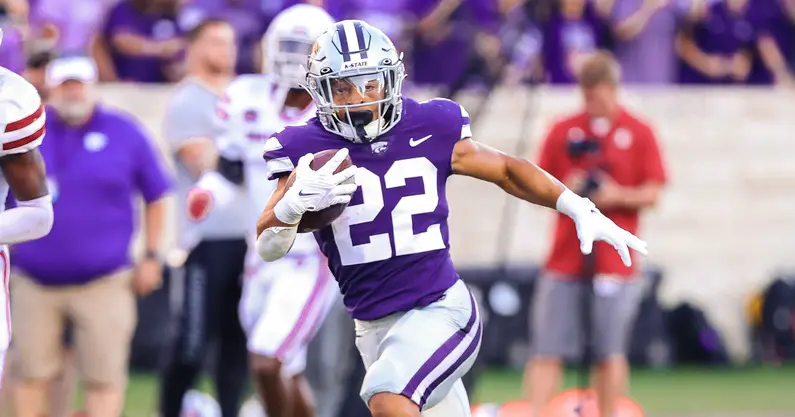 OFFENSIVE MVP: Deuce Vaughn
The Kansas State All-American running back started the season right where he left off last year. It took Deuce Vaughn only 16 carries to earn his seventh consecutive 100-yard game dating back to last season. He finished with 18 carries for 126 yards and a score.
The ground game was cooking all night for the Wildcats, as they finished with 297 yards rushing. On the first play from scrimmage, Malik Knowles took a jet sweep 75 yards to the house. Vaughn's back-up DJ Giddens ran hard for 9.5 yards per carry and a touchdown
Adrian Martinez also found pay dirt with his legs and did a good job keeping the chains moving when needed. The quarterback left a lot of room for improvement through the air. He completed 11 passes on 15 attempts for 53 yards.
Interestingly enough, freshman Jake Rubley looked like the best passer on the night (4/4 for 43 yards) when he came in for garbage time. He looked composed and completed the longest pass of the night (18 yards).
Vaughn was ultimately the key to most of the offensive success. The potential Heisman candidate tacked on a hell of start to his 2022 resume.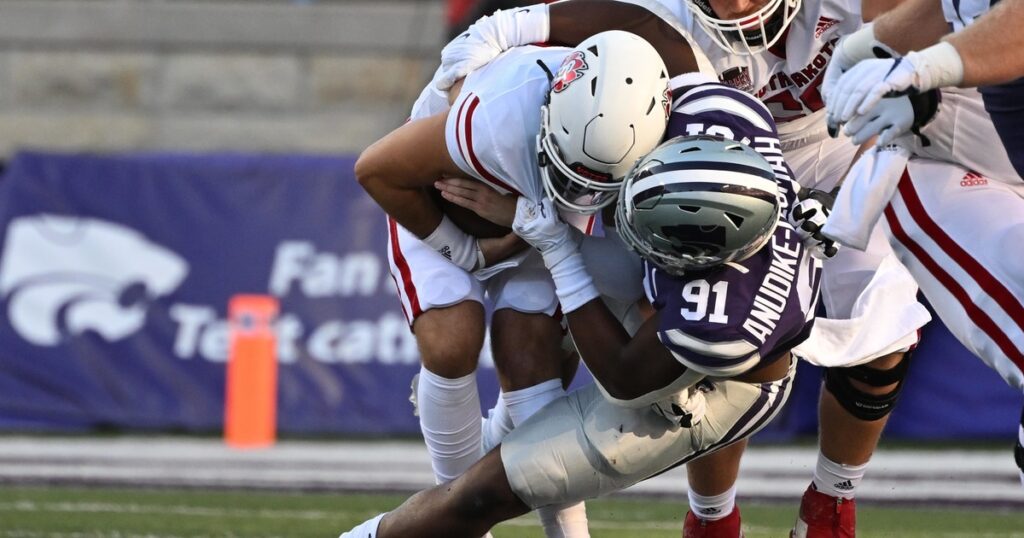 DEFENSIVE MVP: Felix Anudike-Uzomah
The All-American edge rusher didn't play a ton, but he was dominant. Chris Klieman did a great job of keeping the defense fresh by rotating bodies the entire game. It allowed younger guys to see the field more than they normally would against tougher competition.
Despite that, Felix Anudike-Uzomah was a wrecking ball in the backfield and led the team with two tackles for loss and a sack.
The defensive line played incredible as a whole. Nose tackle Eli Huggins also picked up a sack and completed a really solid performance. The other starting defensive end, Nate Matlack, found his way to a tackle behind the line of scrimmage. Even backups Jaylen Pickle and Brendan Mott were productive.
Other honorable mentions include Kobe Savage, Julius Brents, Cincere Mason and Austin Moore. Moore led the team in tackles, Savage was arguably the defensive MVP, Brents played one of his better games as a Wildcat and Mason had a heck of an interception.
Even freshmen Desmond Purnell and Jake Clifton were solid. Khalid Duke also exceeded expectations for his first game back after suffering a season ending injury last year.
With all that, Anudike-Uzomah takes this award by a small margin.
SPECIAL TEAMS MVP: Seth Porter
Wide receiver Seth Porter blocked a punt that resulted in a scoop and score by Desmond Purnell. He almost had a second blocked punt before that. Porter has always been a key asset in the special teams realm for K-State and has started off the season on a great note.
Honorable mentions go to Purnell and Ty Zentner. The punter averaged 40.4 yards per punt and pinned one of his five boots inside the 20. A 49-yard punt was his best kick.
Chris Tennant had a poor performance. He only kicked twice, but he missed an extra point and badly missed a 43-yard field goal attempt.