Cats Trek to Lubbock for First Big 12 Road Tilt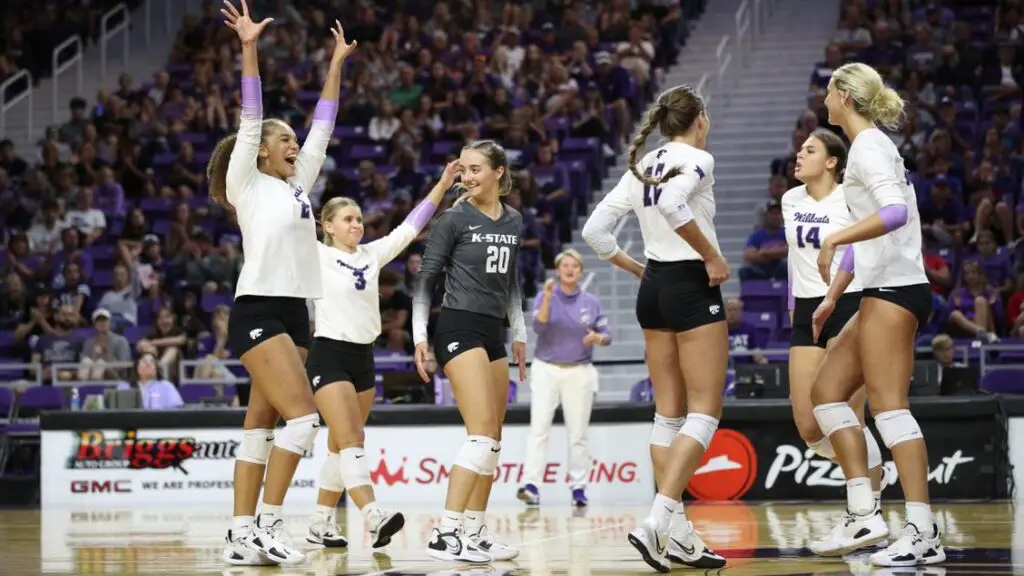 MANHATTAN, Kan. (Kansas State Athletics) – K-State embarks on its first Big 12 road match Wednesday, taking on Texas Tech at 6 p.m. at United Supermarkets Arena in Lubbock, Texas.
The Wildcats (9-5, 0-1 Big 12) opened their conference slate at home against rival Kansas last Saturday. The Cats dug themselves out of a 2-0 deficit to force a decisive final set, however the Jayhawks claimed a five-set victory.
In the match, junior libero Mackenzie Morris reached 1,000 career digs, as she carded a match-best 20. Morris became the fastest player in program history during the rally-scoring era to reach career dig No. 1,000, needing just 63 matches – breaking the previous mark of 64 matches by Angie Lastra (2004-07).
Texas Tech (12-2, 1-0 Big 12) began its Big 12 schedule at West Virginia. The Red Raiders saw four players reach double-figure kills in a reverse sweep of the Mountaineers Saturday. TTU is 4-1 at home and enters Wednesday on a three-match winning streak.
The Wildcats lead the all-time series 42-14 and have won the last five matchups in the series. The Cats are 17-9 all-time in Lubbock while head coach Suzie Fritz is 34-8 in her career against the Red Raiders.
Wednesday's match will air on Big 12 Now on ESPN+ and the ESPN app. Fans can also listen to Rob Voelker on News Radio KMAN (93.3FM) with online audio available at K-StateSports.com/watch and the K-State Sports app.
MATCH #15
K-STATE (9-5, 0-1 BIG 12) at TEXAS TECH (12-2, 1-0 BIG 12)
Wednesday, Sept. 28 // 6 p.m. // United Supermarkets Arena // Lubbock, Texas
Watch: Big 12 Now on ESPN+ // ESPN app
Radio: News Radio KMAN (93.3 FM) // Rob Voelker
Listen: K-StateSports.com/watch // 1350KMAN.com
Live Stats
K-STATE AT A GLANCE
After opening its Big 12 schedule at home with a five-set loss to Kansas, K-State hits the road for its first Big 12 road tilt at Texas Tech Wednesday.
The Wildcats, after falling behind by two sets, rallied to force a fifth set against the Jayhawks.
Libero Mackenzie Morris registered a match-high 20 digs, pushing her over the 1,000-dig mark for her career.
In just her 63rd career match, Morris became the fastest player in program history in the rally-scoring era to join the 1,000-digs club – breaking the previous mark of 64 matches set by Angie Lastra (2004-07).
Morris logged her third straight 20-dig performance and now owns 16 career outings with at least 20 digs (tied for third in program history).
Aliyah Carter paced the Wildcats' offense with 20 digs, equaling her season high, producing her 13th career 20-kill match.
Off the bench, freshman Shaylee Myers was next with 13 kills at a team-best .407 clip.
Middle blockers Sydney Bolding and Kadye Fernholz each carded 10 kills, as Bolding also added seven blocks.
Setter Loren Hinkle turned in her third straight double-double, dishing out a career-high 57 assists to go with 10 digs.
Four players eclipsed double-figure digs, including 13 from Elena Baka and a career-best 12 by Molly Ramsey.
The loss marked the Cats' third straight overall, extending their season-long skid, while the five-set defeat was also K-State's third consecutive loss to its in-state rival.
SCOUTING TEXAS TECH
Texas Tech is off to an 12-2 start after winning its Big 12 opener at West Virginia in five sets on Saturday.
The Red Raiders extended their winning streak to three consecutive matches, with each of the last two coming in five sets.
Overall, Tech has won four of its last five contests and have only suffered losses to Rice and Oral Roberts.
TTU overcame a two-set deficit to reverse sweep the Mountaineers in Morgantown in its Big 12 opener.
The Red Raiders saw four players in double-figure kills Saturday, led by 16 from Kenna Sauer.
Brooke Kanas added 13, Reagan Cooper had 12 and Maddie O'Brien finished with 10.
Sauer is second in the Big 12 at 4.16 kills per set while Kanas ranks seventh in the league with her .360 hitting efficiency.
Setter Reese Rhodes' 10.56 assists a set are second-highest in the conference and libero Maddie Correa is fourth at 4.11 digs per set.
INSIDE THE SERIES
K-State holds a 42-14 lead in the all-time series with Texas Tech, dating back to 1982.
The Wildcats are 17-9 in Lubbock while head coach Suzie Fritz is 34-8 in her 22-year career against the Red Raiders.
The Cats have swept the season series with TTU 14 times in Fritz's 22 seasons at K-State.
K-State has won the last five matchups in the series and 12 of the last 16, going back to 2014
K-State last went to Lubbock during the 2020 season, claiming both matches at United Supermarkets Arena during an adjust schedule (playing same opponent on consecutive days in one location).
MORRIS' MILESTONE
With her 20 digs Saturday against Kansas, K-State junior libero Mackenzie Morris joined the 1,000-digs club.
She became the seventh Wildcat to play her entire career in the rally-scoring era to reach career dig No. 1,000.
Additionally, Morris is the fastest player in program history (rally-scoring era) to reach the milestone, doing so in just 63 matches.
Earlier this season, Morris set a career high with 25 digs against UCF and has now produced three straight 20-dig outings – the longest such stretch of her career.
The Dallas native now owns 16 career matches with at least 20 digs, which is tied for third-most in program history.
At 4.07 digs per set, she is currently one of just two players in the rally-scoring era to average over 4.00 digs per set (Angie Lastra, 4.37).
ACES IN SPADES
K-State has racked up 103 service aces, which is tops in the Big 12 and ranks 15th nationally.
Additionally, the team's 1.91 aces-per-set average is 31st nationally and best in the conference.
Elena Baka is the team leader with 24 aces to rank third in the Big 12 and 39th in the country while Sydney Bolding's 21 aces are fourth in the league.
Baka has logged multiple aces eight times this season while Bolding has produced a career-best four aces twice this season.
Five times the Cats have eclipsed the 10-ace mark, including in back-to-back matches at the UCF Challenge with 11 against Syracuse and a season-high 12 vs. North Florida.
The 12 aces were the most in a three-set match since the 2007 season and were tied for fourth-most in the rally-scoring era.
It was the first time K-State produced back-to-back matches with at least 10 aces since 2007.
Last season, K-State finished with 10 or more aces just twice.
Additionally, the five matches with 10 or more aces are the most since a rally-scoring-record seven matches in 2007.
Currently, three Wildcats make up the league's top 10 in aces per set: Baka (fourth), Bolding (sixth), and Hinkle (ninth).
BOLDING BREAKING OUT
Senior middle blocker Sydney Bolding is off to a fast start for K-State in 2022, hitting .344 and averaging 1.98 kills per set with 1.33 blocks per set and 21 aces.
Bolding twice produced four aces this season, with four against Missouri and four coming in the first set alone against St. Thomas.
The four aces matched a career high, as she has six matches with multiple aces this season (two such matches last season).
Her 21 aces are the most by a Wildcat middle blocker since Peyton Williams' 23 in 2019.
The record for a K-State middle blocker in the rally-scoring era is 37 aces, done by Lauren Goehring (2001) and Kaitlynn Pelger (2013).
She was named to the Rambler Challenge All-Tournament Team, her second all-tournament team selection after also being voted to the K-State Invitational All-Tournament Team.
Bolding, who missed the first three weeks of the 2021 season due to injury, turned in a season-high eight blocks against Kansas City.
The Pickens, South Carolina, product has eclipsed double-figure kills five times this season and has hit .350 or better six times, including a career-best .588 at Rice.
Against NC State, she set a career high with 13 kills while also totaling seven blocks.
INSIDE THE NUMBERS
K-State has won the opening set in 11 of 14 outings to begin the campaign, going 8-3 in those matches.
The Wildcats are unbeaten (8-0) when hitting at a higher hitting percentage and are 8-1 when producing more kills than their opponents.
Additionally, the Cats have won all eight matches in which they have limited their opponents to a hitting efficiency under .200.
With six straight-set victories this season, K-State has already doubled its total from last season (3).
The Wildcats' 3-0 over Kansas City marked the 200th sweep under head coach Suzie Fritz.
Fritz collected her 200th career home win against Missouri on Sept. 7 and is 13 away from her 400th career win at the helm of the Wildcats.