Cats Pick up Two Wins Friday at K-State Invitational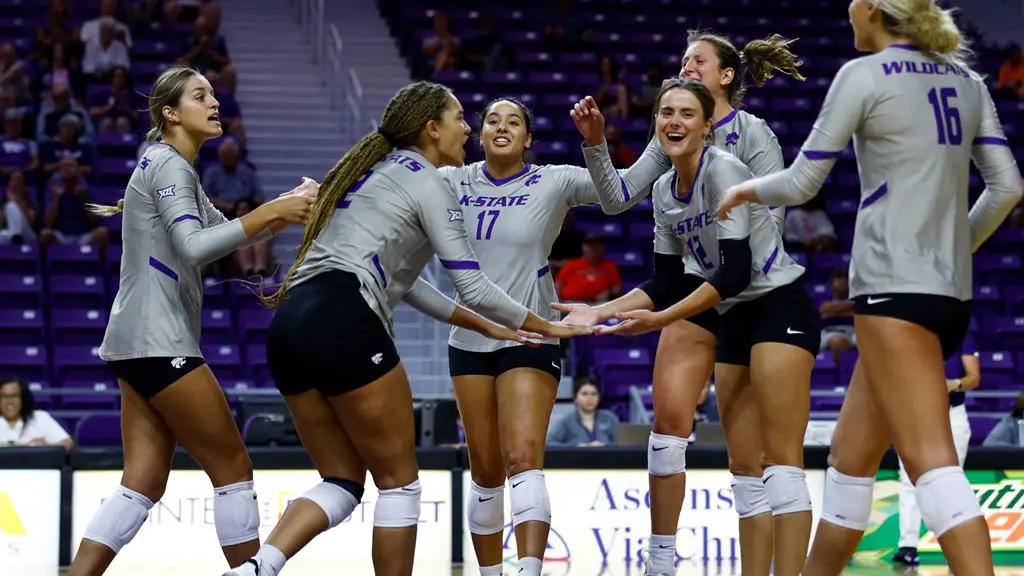 MANHATTAN, Kan. (Kansas State Athletics) – K-State opened its 2022 season with a pair of victories at the K-State Invitational, taking down Sam Houston in straight sets (25-14, 25-22, 25-14) before a four-set victory over NC State (25-27, 25-14, 25-17, 25-18) to finish the Friday doubleheader at Bramlage Coliseum.
The Wildcats' offense hit .357 in their sweep of the Bearkats while the defense logged 17.5 blocks against the Wolfpack. In total, K-State (2-0) limited its opponents to a combined .078 hitting percentage in beginning the season 2-0 for the first time since 2018.
Junior Aliyah Carter totaled 23 kills over two matches and carded a double-double against NC State with 11 kills and 10 digs. Senior transfer Elena Baka also turned in a double-double against the Wolfpack with 12 kills and 10 digs.
Senior Loren Hinkle, in her first career action at setter, handed out 68 assists while adding 18 digs and three aces Friday. Middle blocker Sydney Bolding hit .500 in setting a new career high with 13 kills against NC State.
FROM THE HEAD COACH
K-State head coach Suzie Fritz
On responding after dropping the first set against NC State…
"We didn't feel like we were playing poorly in the first [set], we just didn't finish it. I think we felt pretty good going into the second that if we were just able to sustain some level of consistency, we were going to be just fine. They're all big, but a preseason win over a good NC State team that, I think, is going to get a lot better. They've got a lot of new pieces they're trying to figure out and they're going to have a pretty good year. We just didn't give up points in bunches and, particularly, didn't get stuck in one side-out rotation and give up two or three at a time. I thought that was the difference."
On her team's offensive balance against the Wolfpack…
"You can only get offensive balance if you ball handle well enough to distribute the ball. I like our passing right now. I thought it was really, really good and really consistent. I thought Loren Hinkle did a really nice job. It's quite special given her previous role and the role we are asking her to do now (setter), the effectiveness in which she is running our offense. So a lot of things have to come together to distribute in that manner."
On Sydney Bolding's efficient night…
"Based on how she's playing, we call that "feed the bear." She was unstoppable at times, so you just ride it until they can stop it. I thought she and Loren really had a nice connection, but again, you have to handle the ball well enough to be able to set those front quicks. So there's connected contacts there or us."
MATCH 1: K-STATE 3, SAM HOUSTON 0
In the first match of the day, K-State's offense hummed at a .357 clip, with Carter logging a match-high 12 kills in the Wildcats' straight-set victory over Sam Houston, 25-14, 25-22, 25-14.
Carter, who hit .312, was joined in double-figure kills by Baka, as the senior transfer put down 10 kills while hitting .333. Hinkle, playing setter for the first time in her career, handed out a career-high 31 assists while recording nine digs and libero Mackenzie Morris paced the back row with 14 digs.
The Wildcats limited Sam Houston to a .108 team hitting percentage while owning a 43-28 edge in total kills.
The Cats led throughout the opening set, racing out to a 10-2 lead, a run that included six straight points behind the serve of Carter. K-State forced SHSU into more errors (10) than it produced kills (7) for a -.103 attacking efficiency. Conversely, the Wildcat offense registered 12 kills and hit .333.
Baka accounted for five kills on 10 attempts with one error (.400) in the first set while Carter carded three kills on five swings.
Set two saw seven ties and three lead changes, with the Bearkats withstanding three set-point opportunities before a tandem block by Carter and Kadye Fernholz handed the Cats a two-set lead.
Leading by one late in the frame, 20-19, a four-point spurt gave K-State a 24-19 lead. Sydney Bolding served up one of her two aces in the 4-0 run.
Carter put up six kills in the second set while Morris picked up seven digs.
The Wildcats tallied the first seven points of the third set and later led 10-2, as they never trailed in completing the season-opening sweep. Bolding's serve again sparked the set-opening run that included an ace to go with two kills from both Carter and Haley Warner.
Five of Warner's seven kills came in the final stanza. As a team, K-State totaled a match-high 17 kills at a .429 pace in the third.
Fernholz paced the front line with three blocks while Bolding, Carter and Warner each finished with a pair.
In addition to Baka, freshmen Ava LeGrand, Shaylee Myers, Brenna Schmidt and Dalia Wilson each made their Wildcat debuts. Myers picked up three kills on four swings while LeGrand added five assists.
Catherin Krieger led Sam Houston with 11 kills while hitting .364. Madison Dyer tallied four blocks and Hannah Baker picked up 10 digs to lead the Bearkat defense.
INSIDE THE BOX SCORE
K-State hit .357 as a team (43 kills, 8 errors, 98 attacks).
Sam Houston turned in a .108 hitting percentage (29 kills, 19 errors, 93 swings).
Carter led all players with 12 kills while Baka was next with 10.
Morris paced the Cats with 14 digs along with four assists.
Hinkle, in her first collegiate start at setter, handed out 31 assists with nine digs.
Bolding hit .500 in racking up six kills in addition to two blocks and two aces.
Five Cats hit north of .300 (minimum 10 attacks) in the win: Baka, Bolding, Carter, Fernholz and Warner.
Baka and Bolding each rung up a pair of aces.
Fernholz logged a team-leading three blocks along with five kills (.308).
Krieger was the only Bearkat to reach double-digit kills, logging 11 at a .364 pace.
Baker finished with 10 digs while Dyer added four blocks.
Sam Houston posted more errors (10) than kills (7) in the opening set for a -.103 efficiency.
MATCH 2: K-STATE 3, NC STATE 1
K-State completed a doubleheader sweep Friday behind double-doubles from Baka and Carter in addition to 17.5 team blocks, limiting NC State to a .058 team hitting percentage in a four-set win at the K-State Invitational, 25-27, 25-14, 25-17, 2-18
Bolding's 13 kills marked a career high while she hit a .500 clip (0 errors on 26 attacks). The senior middle blocker added seven blocks and an ace. Baka (12 kills, 10 digs) and Carter (11 kills, 10 digs) each logged the first double-doubles of the season for K-State.
The Wildcat defense held the Wolfpack to a team hitting percentage of .100 or less in three of four sets, including a -.125 mark in the third set. K-State totaled 11.5 total blocks in the first two sets, as Carter and Fernholz tallied six blocks each in that stretch.
Carter and Hinkle each set career-high block totals, with Carter ending with seven and Hinkle with six. Hinkle flirted with a double-double after dishing out 37 assists to go with nine digs.
K-State served up 10 aces in the win, with four coming from Baka. Hinkle and Warner each chipped in a pair. Morris logged 18 digs and an ace.
In the opening set, which possessed 12 tie scores and seven lead changes, saw K-State reach set point at 24-23 only to see NC State respond by scoring four of the final five points to steal a 1-0 lead. In the frame, Carter turned in five kills while Baka added three.
Behind 14 total kills at a .382 clip, the K-State offense responded to even the match at a set apiece. The Cats' lead swelled to 10 points in the second set (21-11) after a three-point run that included kills by Baka and Bolding.
NC State was forced into 10 errors while adding just six kills in the third. Leading 17-15 in the latter stages of set, the Cats closed by scoring eight of the next 10 points to earn a 2-1 lead. In the third, K-State got two kills each from Baka, Bolding, Carter and Warner.
K-State never trailed in closing out its doubleheader sweep. Bolding caught fire by putting down seven kills on 12 swings without an error in the fourth. Baka contributed three kills and Carter and Fernholz each added two.
Again, the Wildcats held a slim 17-15 edge before finishing on an 8-3 spurt, which featured three kills by both Baka and Bolding.
NC State failed to have a player crack double-figure kills, as Jada Allen produced a team-leading nine kills while hitting .263.
Libero Priscilla Hernandez carded a match-high 21 digs.
INSIDE THE BOX SCORE
K-State hit .234 as a team (47 kills, 14 errors, 141 attacks).
NC State turned in a .058 hitting percentage (40 kills, 32 errors, 137 swings).
Bolding hit .500 and led the Cats with a career-high 13 kills.
Baka added a dozen kills at a .306 clip while Carter ended with 11 to round out three in double figures.
With 10 digs each, Baka and Carter registered double-doubles.
K-State produced 17.5 blocks as a team – tied for the fourth most in a four-set match and its highest total in a four-set match since 2019.
Morris finished with a team-leading 18 digs and Molly Ramsey carded a career-high nine digs.
Carter added a career-high seven blocks (six assists, one solo).
Fernholz had a match-high nine blocks (eight assists, one solo).
Bolding chipped in seven block assists and Hinkle added a career-high six.
Hinkle flirted with a double-double with a career-best 37 assists to go with nine digs.
The Wildcats held NC State below a .200 team efficiency in all four sets and .100 or under in three frames.
As a team, K-State racked up 10 aces and were led by four from Baka.
No player from NC State cracked double-digit kills, as the Wolfpack were led by nine kills from Allen.
Priscilla Hernández posted a match-high 21 digs for the Wolfpack.
NOTES
This was the first-ever meeting between K-State and Sam Houston.
K-State leads the all-time series with NC State 2-1.
The Wildcats are 6-1 against teams from the WAC while Fritz is a perfect 5-0.
K-State is 18-10 vs. members of the ACC.
Five Wildcats – Baka, LeGrand, Myers, Schmidt and Wilson – made their K-State debuts Friday.
The Cats opened the season with a sweep for the first time since 2018.
K-State begins its season 2-0 for the first time since the 2018 campaign.
K-State is 9-2 in its last 11 season openers.
The Cats' 17.5 blocks were tied for fourth-most in a four- set match and their highest output since the 2019 season.
UP NEXT
K-State concludes the 2022 K-State Invitational Saturday against Florida A&M at 12:30 p.m. The match can be seen on Big 12 Now on ESPN+ and the ESPN app. Radio coverage is available on News Radio KMAN (93.3 FM) and streaming online at K-StateSports.com/watch.