Burton, Dimel Add MHS Flair to K-State Offense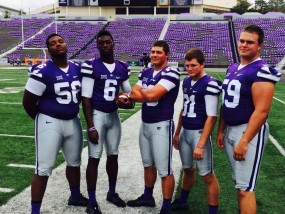 For most people, it takes around two minutes to drive east on Kimball Avenue from CiCo Park to the Vanier Football Complex. For Deante Burton and Winston Dimel, it took two years.
The pair took almost identical routes. In 2011, they were teammates at Manhattan High School, with Burton a standout senior and Dimel a hungry sophomore. The league-champion Indians went 10-1 that season, and Burton accepted a scholarship with the Wildcats.
He redshirted in 2012, helped on special teams in 2013, and finally entered the mix at wide receiver last season.
By that time, after helping MHS to two more league titles, Dimel had joined him and was taking a redshirt year of his own. He watched from the sideline as Burton made strides, but failed in his ultimate goal: to reach the end zone at the highest level of college football.
"We used to have a joke that I was cursed; that I would never catch a touchdown," Burton said.
Entering this season, it was unknown just how large each player's role would be. Other than the expectations of their coaches, which were high, there was little light shed on their place in a rebuilding offense.
Could Burton show the consistency necessary to be a No. 1 option at receiver? Was Dimel's strength enough to challenge Glenn Gronkowski at fullback?
It took less than two quarters to get an answer: yes and yes.
Dimel scored twice and Burton broke his own curse in K-State's 34-0 victory over South Dakota.
"It was a dream come true," Dimel said. "For us to be on the same field at the same time again, it just felt right. There are no words for how awesome that was."
Dimel's two-yard run early in the second quarter gave the Wildcats a 17-0 lead. In the celebration was Terrale Johnson, a former MHS offensive lineman, who earned the start at left guard.
Burton waited for Dimel to emerge from his teammates' group hug.
"I get kind of claustrophobic in those things, man," Burton said with a smile. "Those linemen are nasty. I waited my turn."
When it came, Burton embraced his friend, who he taught how to be a football player at MHS.
"I was very proud of him. It's really exciting to see one of your good friends excel on the field."
Just four minutes later, Dimel was able to return the favor. Joe Hubener connected with Burton for a 24-yard score. The supposed curse was over.
"I just gave him a big hug and told him, 'You finally did it,'" Dimel said. "We were both pretty hyped up."
Burton finished the game with two catches for 35 yards. Statistically, it wasn't anything special. But on a personal level, it was the biggest step of his career, and it came in the presence of some of his best friends.
Along with Dimel, Burton and Johnson, former Indians Taylor Hilgers and Jason Lierz are on the team as well. Hilgers saw some playing time in the second half.
"At one point, where we are now seemed like a pretty far-fetched goal," Burton said. "Now, we've made it a reality. I feel like the sky is the limit for us, all five of us."