Wildcats Fend Off West Virginia in Three Sets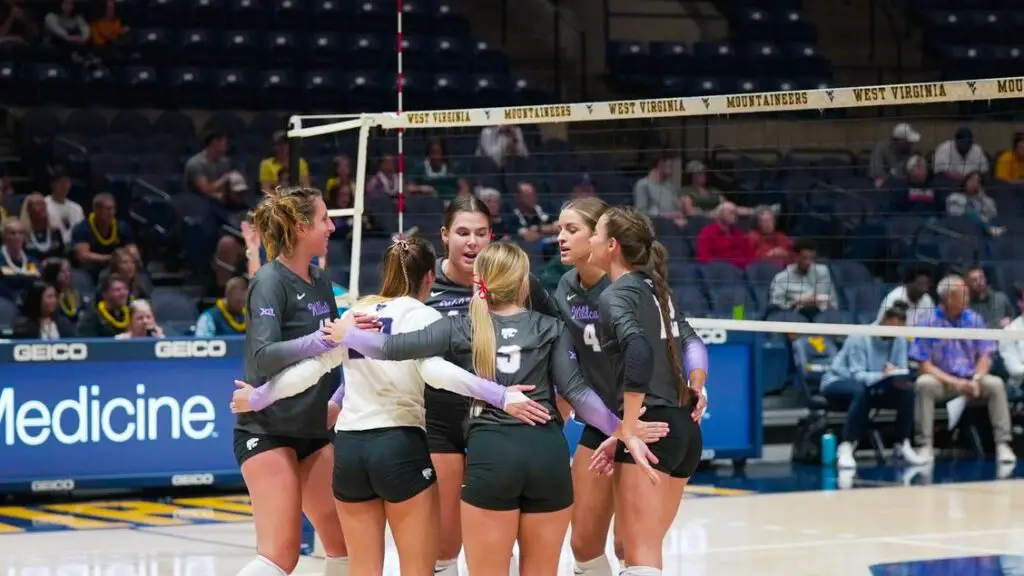 MORGANTOWN, W.Va. (Kansas State Athletics) – In its first Big 12 road victory, K-State was able to hold off West Virginia in three sets, 25-22, 28-26, 25-18, at WVU Coliseum on Wednesday.
K-State (11-6, 2-2) was led by seniors Elena Baka and Sydney Bolding with eight kills each. Baka kept the tempo at a .412 hitting efficiency while Bolding swung at .235 for the night.
K-State concluded the night with 10 blocks with Kadye Fernholz logging a five-block performance. Bolding added four stops at the net.
Mackenzie Morris collected her sixth straight match with at least 15 digs, turning in 16 to lead all players. Baka contributed eight passes.
The Cats notched four service aces from Bolding, Morris, Loren Hinkle and Molly Ramsey. Hinkle finished with 26 assists against the Mountaineers.
The Mountaineers produced 38 kills to the Cats' 33, but tallied a their second-lowest hitting percentage at .075. Melanie McGann (7 kills, 5 digs) led all players with a .462 hitting ratio.
Adrian Ell tallied a match-high 13 kills at a .167 efficiency. Kamiah Gibson put up 29 assists and two of the Mountaineers' three aces.
FROM THE HEAD COACH
Head coach Suzie Fritz
On the difference in the match…
"Our serving continues to put pressure on opponents. It kept West Virginia out of system and we were able to get productive touches in the net and score points defensively. It wasn't always pretty, but we found a way to win and showed resilience and composure in some tough moments. Credit to West Virginia, they made it tough on us and fought hard all night."
On the team's offensive performance…
"It was good to have a balanced attack, credit to Loren for getting everyone involved. She was able to keep West Virginia's defense off balance. Elena really came on strong late, especially in game three. I loved the grit of our team tonight."
HOW IT HAPPENED
Set One – K-State 25, West Virginia 22
West Virginia raced to a 5-0 lead to begin the match. K-State won seven of the next eight points to cut the deficit and tie the Mountaineers at 7-7.
K-State continued the run to gain its first lead of the match at 10-9 on back-to-back errors by West Virginia.
The Big 12 teams traded points until WVU used a 5-0 spurt to lead 21-18. The Wildcats closed the set on a 4-0 run to take the 25-22 victory.
The K-State defense racked up three blocks (Bolding 2, Fernholz 1) and held West Virginia to hitting .081. Bolding led the Cats' offense with four kills while Shaylee Myers (.222) and Baka (.200) contributed three each.
Set Two – K-State 28, West Virginia 26
The Wildcats broke away from the Mountaineers on a 5-1 run, earning a 15-12 lead. Haley Warner popped three kills in the train.
WVU returned the favor on a 6-1 roll for a two-point cushion. Cats then evened the score at 24 with three straight points to take hope alive. The team finished the set 28-26 with four of the final five tallies.
The second set saw 14 ties and nine lead changes as both teams hit under .200. West Virginia tallied 17 kills while keeping K-State at 12.
Myers and Bolding each collected four kills.
Set Three – K-State 25, West Virginia 18
West Virginia's largest lead of the set originated in the first six points as they kept the Cats quiet at 0. K-State chipped away to get within two on a pair of Baka kills.
K-State turned the tables on a 13-1 cruise to bring the 25-18 victory.
West Virginia outpaced the Wildcats with 10 kills versus nine. K-State pulled two service aces behind Bolding and Morris.
INSIDE THE BOX SCORE
K-State hit .163 as a team with a season-low 33 kills (16 errors, 104 attacks).
West Virginia finished with its second-lowest hitting percentage of the season at .075 (38 kills, 29 errors, 120 swings).
Baka and Bolding led K-State with eight kills apiece.
Four Wildcats (Ramsey, Hinkle, Bolding, Morris) tallied an ace.
Baka produced a team-best .412 hitting percentage.
The Wildcats registered 10 blocks, their fifth double-figure outing over their last seven matches.
Fernholz tallied five blocks while Bolding added four.
Morris registered 16 digs, notching 15+ in the last six matches
McGann led all players with .462 hitting percentage.
Ell collected a match-high 13 kills (hitting .167).
NOTES
K-State leads the all-time series with West Virginia 13-8, winning four of the last five matches.
The Wildcats are 7-3 in three-set matches versus WVU.
Fritz is 13-8 in her career against West Virginia.
The Cats are 8-1 in three-set matches this season.
UP NEXT
K-State continues Big 12 play on the road as it heads to Austin, Texas next week to take on No. 1 Texas. The Wildcats and the Longhorns face-off on Wednesday, Oct 12 with a 7 p.m. start. The match will be broadcast on Longhorn Network while Rob Voelker will be on the call online at K-StateSports.com/watch and the K-State Sports app.