Welcome to the third installation of our weekly Powercat Gameday Panel where Powercat Gameday hosts John Kurtz, Cole Manbeck and Stanton Weber field your K-State football questions.
After a dominating performance against Florida Atlantic, Kansas State looks to game three as the Wildcats host Missouri State on Saturday, September 24th at 6:10 p.m. Tune into Powercat Gameday live on KMAN starting at 2:00 p.m. or stop by the broadcast in Cat Town just south west of Bill Snyder Family Stadium.
Thanks as always to everyone who submitted a question to this week's Powercat Gameday Panel. To submit a question tweet us at @PowercatGameday or to any of the panelists: @jlkurtz, @Cole_Manbeck, or @StantonWeber.
Let's get to it:
@PowercatGameday how good is the defense through 2 games?

— Marcus (@KSU_LYNCH_MOB) September 20, 2016
@PowercatGameday After three weeks, where does K-State's defense rank in the Big 12?

— Ryan Moss (@PowercatRyan) September 19, 2016
John: The defense has been excellent through two games. K-State is in the top three in the conference in every major statistical category. That includes leading the league in rush defense and total defense. They're also in the top 25 nationally in scoring defense, rush defense and total defense. FAU obviously wasn't good, but the Wildcats also played Stanford and Christian McCaffrey.
As far as where they rank in the Big 12, I'll wait to see them against some of the spread offenses of the league before I definitively put them as a top three unit in the conference. Last year, K-State had allowed only three points through two games and looked like they might be headed to an impressive year on that side of the ball. Unfortunately, we know how that turned out. There's certainly a lot of reason to believe it will work out much better this year, that list starts with the fact that they've already shown an ability to force turnovers and rush the passer at a much higher rate, but I still need to see them against Big 12 offenses first before I totally trust it.
Cole: As John said, it's difficult to gauge the defense until the Wildcats face Big 12 offenses, but thus far, I'm very encouraged. If you look around the conference, Big 12 teams have struggled defensively. TCU allowed more than 40 points to South Dakota State. Oklahoma State gave up 38 to Pittsburgh and 30 to Central Michigan. Oklahoma has really struggled against Houston and Ohio State. Texas allowed 47 to Notre Dame and 50 to California, etc. As of now, I'm inclined to believe K-State has the best defense in the Big 12. Good defenses keep you in games, and if the defense continues to play well, the Wildcats will be in every game the rest of the season.
Going into the season, there were two big question marks on defense: Defensive tackle opposite of Will Geary, and the corner spot opposite of Duke Shelley. Thus far, freshman Trey Dishon looks solid opposite Geary, and I believe D.J. Reed was a steal late in the recruiting process. I really like Reed's game.
The most encouraging thing about this defense is its ability to generate a pass rush just rushing four. The defensive ends are the best group K-State has had since 2012. And having a strong front four that can pressure the quarterback is going to lead to this group forcing opponents into mistakes.
Stanton: Many question marks loomed after the defense made a strong showing at Stanford against one of the best players in the country. Most of my questions were centered around how the defense played against the pro-style offense of Stanford and the fact that every team in the Big 12 runs the spread. This week against FAU we got a taste of how the defense would fair against the spread and they passed the test with flying colors.
Which just raises more ambitious questions with Big 12 play around the corner.
One of my favorite statistics for a defense is percentage of three and outs. After two games Kansas State has forced the opponent's punt team onto the field after three plays 9 out of 25 times or 36%. Against FAU, if you include Kendall Adams' interception on the third play of the drive and Mike Moore's fumble recovery on the first play of the drive as three and outs, K-State was 8 for 15 on the day or 53%, bringing the season total to 44%. If K-State can sustain the clip of not allowing opponents a first down on 44% of their drives, they will be a top ranked defense in the Big 12 if not the nation. Time will tell.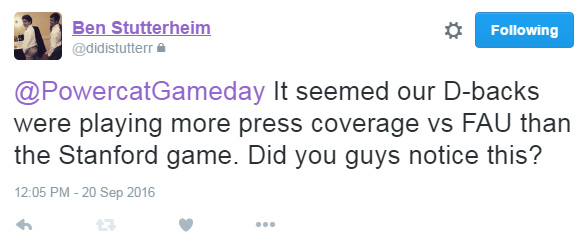 Cole: I have noticed K-State playing tighter coverage at times. I think part of this was due to FAU having a struggling offensive line and the Wildcats knew they'd be looking to get rid of the ball quickly. But the other part falls in line with what Stanton said below. Having a leader on the back end of the defense you know you can trust in Barnett enables the defense to take more chances.
Stanton: In the past two games the defense has been more aggressive in general compared to last year and I believe that stems from the trust the Tom Hayes has in senior safety Dante Barnett. The experience he brings allows for the defense to take more chances by bringing more blitzes and tightening up the coverage. I was pleased how the defensive backs played and the pressure that the front seven put on Florida Atlantic all day.
John: I'll leave this more to Cole and Stanton, but I will say that there was a lot of pressure on Jason Driskel throughout the game. K-State had four sacks and seemingly a lot of hurries. That could have had a little something to do with the Wildcats mixing up their coverage. I can also tell you that DJ Reed said his interception came when he was in Cover 2 and saw someone coming out of the backfield, and Kendall Adams said his came because he recognized the play from studying film and jumped in on the route.
Coach Snyder was actually asked about playing more press coverage last week at his press conference leading up to the FAU game and he said that they have and will play it throughout the course of the year.
@PowercatGameday As we get closer to Big 12 play, will it be RB by committee or who is your favorite to start the WVU game?

— Ryan Moss (@PowercatRyan) September 19, 2016
Stanton: After Saturday's performance by running backs Dalvin Warmack and Alex Barnes I think it's only fair to assume that they each have earned themselves more touches in the future. I was very impressed with both of them, turning well-blocked 8-yard runs into much more after making a defender miss. K-State fans know what they're going to get from Charles Jones and the veteran will continue to start and do all the little things well. Add the proven asset of another young running back in Justin Silmon and what some may see as a crowded backfield, I see as much needed depth at a position that takes a beating over the course of a season. I think the running back by committee approach will sustain throughout the year unless one of the four clearly breaks away. However, if all four stay in the mix, I believe we will see it begin to pay dividends midway through Big 12 play when all the backs still look explosive and healthy.
As for Winston Dimel I think we will continue to see him get touches near the goal line. Last week he had about as efficient a day as you can, scoring on 4 of his 5 touches. Say what you want about his dad being the offensive coordinator, the guy is good, and has delivered consistently on the ground and as a receiver ever since he stepped on campus.
John: It sure sounds like running back by committee is the name of the game for now. I asked Coach Snyder Tuesday if there was a certain amount of backs he had in mind that could get carries once Big 12 play starts. His answer basically indicated that unless someone really emerges fast, he's comfortable playing multiple running backs. He also said that the competition is just as wide open as it was going into the FAU game. Charles Jones is going to play. The coaches seem to love what he brings to the table in terms of knowing the offense, pass blocking and catching out of the backfield way too much to keep him on the bench. My educated guess would be maybe you see Warmack and/or Barnes start to slowly take carries away from Justin Silmon.
I'd think you'll definitely continue to see Dimel on the goal line. He's definitely an asset on offense, and with his size he becomes more effective inside the 10-yard line. Regardless of your opinion on whether or not Dimel should have gotten those carries, it's hard to argue with the success they had with it on Saturday. Would I be crazy about that if I were one of the four other running backs fighting for time? Probably not, but I don't think it's that big of a deal. Winston Dimel said after the game that the Wildcat package he was running was just put in last week, so that part is relatively new to the offense. I will say that you may see some wildcat with Byron Pringle and/or Alex Delton once conference play starts.
Cole: Winston Dimel is a good player, and as long as giving him the ball in the Red Zone is working, it's hard to argue against it. Yes, I do believe there are other running backs who are just as capable of scoring in those situations, but it's hard to argue against success.
As far as the running back by committee approach, I think it's going to continue. From a pure talent perspective when it comes to running the football, I believe Barnes and Warmack are K-State's best options. However, the coaching staff really trusts Charles Jones as a fifth-year senior and he will continue to start. But if Barnes and Warmack show more of what they did against FAU, they'll be hard to keep off the field. Either way, I think you have to find a way to get the ball in Warmack's hands five to seven times a game at a minimum as a change of pace. It's nice to have depth in the backfield and it will come in handy during the grind of Big 12 play.
@PowercatGameday Will Delton get some Wildcat formation Oppurtunities? Dude is fast!

— Colton Hitch (@CJhitchin23) September 19, 2016
John: I guess I just kind of addressed this earlier. It's definitely a possibility I would have to think. However, we did say the same thing last year and didn't see it before he got hurt. There are a lot of mouths to feed on the offense right now which may make it a little bit tougher. Thanks to some of the players in the spring, we do know that Byron Pringle has taken snaps in the Wildcat as well since he's been here.
Cole: Delton is explosive. We haven't seen much of him since he has arrived in Manhattan, but based off what I saw Saturday, he could be the most explosive runner K-State has had at the quarterback position. He certainly ranks up there with the best of them in terms of sheer athleticism. I'd love to see him get a few touches out of the Wildcat, and this might surprise you, but I do think it's going to happen at some point this season. How often does it happen? Not sure.
I think Delton will be brought in at some point as a change of pace in the zone-read run game in some games this season.
Stanton: Alex Delton saw game action for the first time since going down with an injury against UTSA last year. I was very encouraged by what I saw from him in the spring game in April, showing that he had grown in his knowledge and understanding of the offense since I had last practiced with him. It was apparent that he felt more comfortable and that allowed him to showcase his athleticism which was on full display Saturday against Florida Atlantic.
Delton adds his name to a list of guys who would be great options to take snaps in the Wildcat formation. I wouldn't be surprised if Delton makes an appearance as the Wildcat quarterback this year but I also wouldn't predict it either. You could make the case that having a quarterback in the package makes the defense have to respect the pass more but you could also say that if you are going to pass why not use Jesse Ertz in the normal offense. Ensuring Delton is healthy in case something happens to Ertz is another argument when you have tough running options in Charles Jones, Winston Dimmel, and Byron Pringle to use instead of Delton.
@PowercatGameday what impressed you the most against FAU, and what needs to be improved the most before Big 12 play starts?

— Jake Anderson (@ndersonJake) September 20, 2016
John: Two things that K-State fans have been clamoring for since the beginning of 2015: more turnovers forced and a legitimate rushing attack. The 335 rushing yards were the most in a game for the Wildcats since 2012, and they had more interceptions by defensive backs in the FAU game than they did the entire 2015 season (none of which came from ballhawk Dante Barnett). Regardless of the level of competition, that's a step in the right direction. They couldn't dominate teams like UTSA and South Dakota like that a season ago.
Cole: Completely echo what John said. Forcing four turnovers is a big deal for a K-State defense that recorded the fewest takeaways (16) in Bill Snyder's previous 24 seasons in Manhattan last season. You can argue that it was against a weak opponent, but as John said, K-State wasn't able to accomplish that task against weak teams last year in the non-conference.
And I agree with what Stanton said below. I'm a big fan of D.J. Reed (as I mentioned earlier) and seeing his ability to make the play on the football that he did for his interception is really encouraging. K-State is going to be much better in the secondary this season.
Stanton: Coming into the game I was most interested in seeing how cornerback DJ Reed would perform as an every-down player. It is too early to gauge just how good he is but I was very impressed with his ball skills on his interception and his pass breakup of a deep post. His interception involved a wheel route in which he had to recover about five to ten yards of separation. As he approached the wide receiver, where most defensive backs panic and run into the receiver prompting a pass interference call, Reed trusted his technique, he got to the wide outs hip and turned for the ball in time to jump and make an impressive catch for the interception. The lack of interceptions last year show that K-State was in need of this kind of instinct when the ball was thrown to opposing receivers, Reed may bring that too the table.
As for improvement, I think it is very clear that penalties were K-State's biggest disappointment in the Florida Atlantic game. Missouri State will be a good test for whether or not this will be a part of K-State's DNA this year or just a product of the youth going through growing pains of the first couple of games. Once Big 12 play starts, "there are a lot of young guys out there," won't work as an excuse any more. It's a safe bet that a Bill Snyder coached football team will rank near the top of the Big 12 in least penalties committed, and I am confident this year will be no different.
@PowercatGameday can kstate win the big 12??

— McCain ® (@IamAustinMcCain) September 20, 2016
Stanton: With the only undefeated teams in the Big 12 being a Baylor team who looks like they lost a little bit (maybe a lot) of their swagger after Art Briles' exit and a West Virginia team that Kansas State always competes with, I would say it isn't unrealistic to have this conversation.
I have always said when you are looking at how Kansas State's Big 12 schedule plays out with home and away games, this year's version of the schedule is a tougher road to a championship but gives a middle of the pack team a better chance at making a bowl game. K-State's road games are against West Virginia, Oklahoma, Baylor, TCU, and Iowa State. Over the last few years Baylor, Oklahoma, and TCU have been excellent, to win the Big 12 you would realistically have to win two of the three and still take care of business in every other conference game. The trip to Morgantown is never easy and Iowa State is a much better team in Ames than people give them credit for. Kansas State's home games include Texas Tech, Texas, Oklahoma State, and Kansas. Interestingly enough all these teams are consistently beatable when they come to Manhattan (excluding Kansas, they seem to just be consistently beatable), but K-State would also have a decent chance to win against all four on the road. If we had the odd year's schedule this year I would be more optimistic about the potential for a Big 12 championship but I still won't count it completely out for this year, I've seen Coach Snyder do crazier things.
So you could make a case that Kansas State could go undefeated at home this year but you could also make a case that they will go 1-4 on the road. The race is wide open and I don't see why Kansas State should be out of the conversation but it would take more than a few breaks with the tough road schedule.
John: I still need to see a lot more before we start talking about a Big 12 title. There is plenty of reason to be optimistic about winning anywhere from 7 to 9 games though. After watching Oklahoma get out-classed twice, Oklahoma State lose at home to CMU, TCU blow a home game to Arkansas and Baylor struggle a bit with it's typical soft non-con schedule, what game on the schedule looks completely un-winnable? K-State was already pretty competitive in nearly every Big 12 game last year with a less talented team than the 2016 squad. The flip side to that is that the Kansas game is really the only league game that looks like a definite win (maybe Iowa State, but things always get hairy in Ames). There still seem to be too many question marks to think about challenging for a league title, but winning five or six Big 12 games doesn't seem like as much of an uphill climb as it did a few weeks ago.
Cole: I'm still targeting 2017 as K-State's season to make another run at a Big 12 title. The Wildcats will return a lot of key pieces next season and will be a veteran team with more experience at the quarterback position (pending no injuries). In addition, the schedule flips next season in K-State's favor as the majority of the best teams consistently in the Big 12 will have to come to Manhattan.
That being said, you asked about 2016. The conference is wide open. Unfortunately, the Wildcats just have too many difficult road trips. I know TCU and Oklahoma haven't looked the part so far, and Baylor has struggled against its soft schedule, but those are still very difficult road games. Not to mention the road trip to West Virginia to kick off Big 12 play. If the Wildcats can defeat the Mountaineers, then I think we can at least begin to debate it a little more. But until then, we're getting ahead of ourselves.
I will say that the road game at Baylor is one I think the Wildcats can steal. Not predicting a win yet, but if I was going to target a big upset game for this K-State team, it would be that one. And I do think the Wildcats win at West Virginia.