On3 Consensus four-star RB John Randle, Jr. discusses five schools, including Kansas State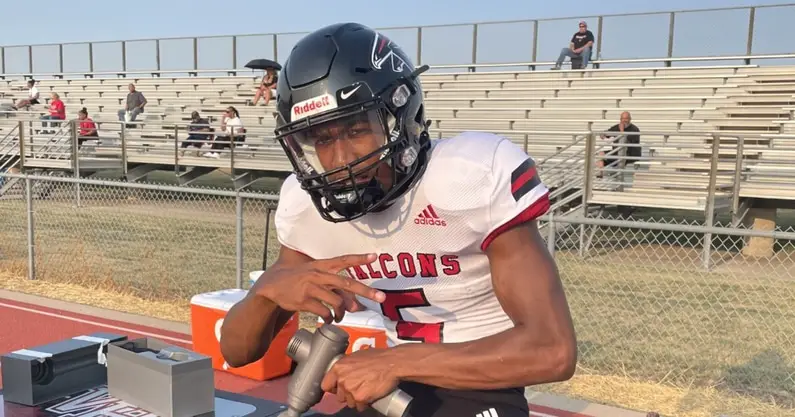 Originally posted on kstateonline.com
by Derek young
K-State Online wasted no time checking out Kansas State running back target John Randle, Jr. this season. The Wichita Heights standout is an On3 Consensus four-star prospect and labeled as the third-best player in the state.
Though he was fighting through some intense cramps, he busted loose a few times in the loss to perennial 5A powerhouse Wichita Northwest. That included a touchdown of his own where he out-ran every defender for a 46-yard touchdown scamper.
He continues to make strides in his game.
"I feel like I always have room to improve," Randle, Jr. said. "I have been finishing my runs, finding my holes. We just have to get back to the drawing board and get our stuff together, but I'm just trying to do my job and help my team."
If the plans work out, he will be in Manhattan later today when K-State hosts Missouri, in what is supposed to be a large crowd and have several other blue-chip recruits on campus as well.
"Possibly," Randle, Jr. answered. "I have to see (my dad) and talk to him and talk about it. But we're trying to be there."
Since we had never spoken to Randle, Jr. about his recruitment before, we asked him what his interest level in the Wildcats is and what has drawn him to Chris Klieman and Kansas State.
"They have a lot going on up there," he replied. "Coach (Brian Anderson), that's my guy. He knows my people and I've known him for a minute. It feels like home. It will be real cool if I can get up there tomorrow. We are going to if we can and see what they got going on there."
For those that may not know, his connection to K-State isn't just that he's from Wichita and a recruit in the Sunflower State. While his father John Randle, Sr. was at Southern Illinois after leaving Kansas, he was coached by Wildcats' running back coach Brian Anderson.
"Oh yeah, they know each other very well," Randle, Jr. shared. "They can chat for a long time. They always do when they are around each other."
As far as other schools, four other programs did come to mind for Randle, Jr., though there is a few more that he remains in communication with at this time. Many remain interested in having him on campus before Signing Day.
"I hear a decent amount from other schools," he revealed. "Not any certain ones. I talk to a lot of them. It's dang near all of them. I talk to Utah a lot. That's my school. I like Utah. Oregon is cool. Tennessee, they're very cool. I like Michigan. There's a decent amount of schools. There's more. But those are some of the ones that talk to me a decent amount and are trying to get me to visit."
The prevailing wisdom has been that he will allow his recruitment to go the distance and announce a decision closer to Signing Day. However, he didn't speak to that when asked when he would be confident enough to make his college choice.
"Really, there's no certain day," Randle, Jr. admitted. "It's whenever that school makes me feel at home and comfortable."
For more recruiting coverage around the clock and the best Kansas State content on the planet, keep it locked at K-StateOnline. Not a member? Sign up today and consume everything on the site for $1. The deal lasts for just a limited time.