By Cole Manbeck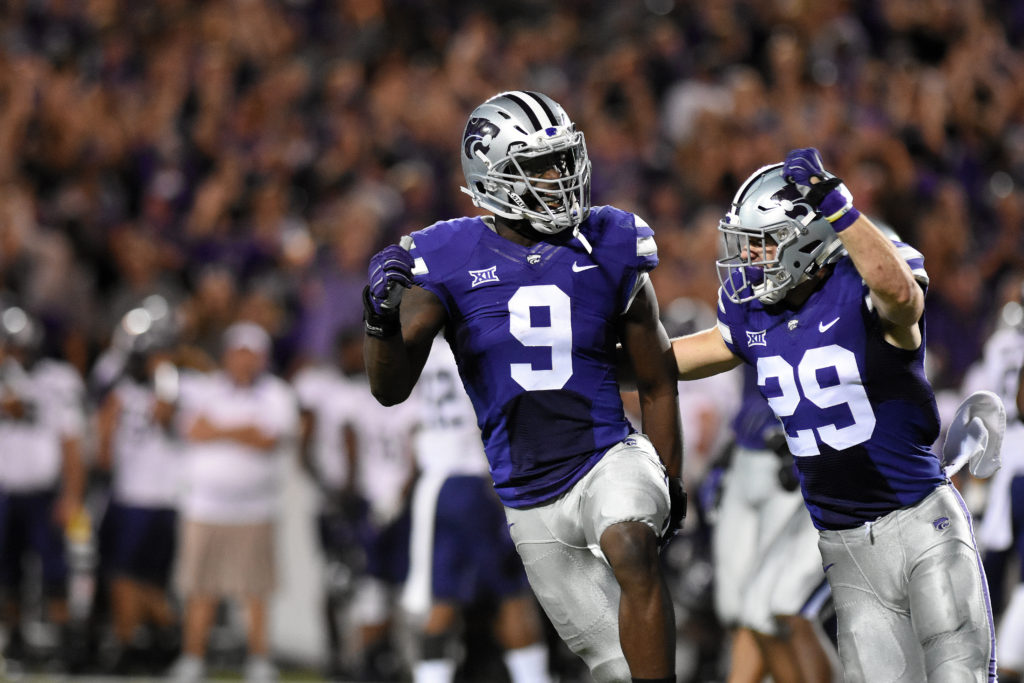 Last week we broke down the struggles of Kansas State's secondary in 2015. Before we move on to the front six of the defense, I wanted to mention one final area of improvement K-State needs from the secondary in 2016 – limiting the big plays, something I failed to write about in the previous blog.
K-State allowed 57 passing plays of 20 yards or more last season, the most of any team in the Big 12. The league average was 45 plays of 20-plus passing yards in 2015. In addition, only four teams in all of college football allowed more passing plays of 20-plus yards last season than K-State. According to SB Nation's Bill Connelly, K-State's defense overall allowed 221 plays of 10 yards or more, ranking 122nd nationally.
Now that we've gotten the final negative out of the way, let's move onto the positive – K-State's front six of the defense (typing front six feels strange, but there isn't much 4-3 defense played in the Big 12 nowadays). Three of the six projected starters that make up the Wildcats' front six were selected to the preseason All-Big 12 First Team. If senior linebacker Mike Moore plays the way he did late in 2015, he's an All-Big-12 caliber player too.
K-State's defensive line features senior defensive end Jordan Willis, who is the top returning defender statistically at sacking the quarterback in the Big 12. Who will play opposite of Willis remains a question, but I am excited about the potential of both junior Tanner Wood and redshirt freshman Reggie Walker.
The biggest question mark in the front six will be who replaces Travis Britz, an anchor at defensive tackle the previous three seasons. We know how good Will Geary is, but whoever lines up next to him will be key. Teams will likely double team Geary at times, or use a second man to hedge block the former walk on. If they do that, the defensive tackle lined up next to Geary will need to occasionally take advantage of the one-on-one matchups when those situations arise.
K-State has a history of second-year junior college players, as well as junior college defensive tackles, making strides. Chaq Reed, Valentino Coleman and Daniel Calvin are a few examples of junior college defensive tackles who significantly improved from year one to year two during coach Bill Snyder's second tenure with the Wildcats. K-State must hope that Craig Settles, a former junior college transfer who saw action in the final two games last season, can take a big step in his senior season. K-State also brought in Ray Price from the junior college ranks this year to provide depth, joining redshirt freshman Trey Dishon and junior Matt Seiwert as the primary competition on the interior.
The ideal at all positions is to have a solid two-deep, but that was not the case last season at defensive tackle. Britz and Geary are very good players and are warriors, but they played too many snaps in my opinion. K-State will need someone to step up who can spell Geary at times and keep him fresh so he doesn't lose his effectiveness.
We highlighted in the previous blog that K-State's pass rush was a strength in 2015, ranking in the top 25 in the country in sack percentage. It should be be strong again this season. I believe Walker has a lot of pass-rush ability to go along with Willis. And Elijah Lee, a versatile linebacker who can really get after the quarterback, enters his junior year after a solid sophomore campaign.
Moore and Lee can really run. It will be key for the K-State defensive tackles to keep blockers off of them so they can fly around to the football and make plays. Which brings us to the one weak spot of the front six in 2015. The Wildcats allowed 4.6 yards per rush last season against FBS opponents, ranking 81st nationally. In K-State's final nine games, the defense allowed 1,883 yards on 365 attempts, an average of 5.2 yards per carry.
K-State allowed 3.9 yards per carry in 2012, 3.8 yards per rush in 2013 and 4.2 yards per rush in 2014. Those are averages K-State needs to get back to in 2016.
Lastly, K-State's defense as a whole needs to improve in defensive efficiency. Points per drive is a stat that gives a more accurate assessment of a defense rather than points per game, as it takes into account pace of play. Brian Fremeau does a great job of tracking this stat dating back to 2007.
K-State's defense allowed 2.60 points per possession in 2015, ranking 101st in the country. It was the most points per drive K-State has allowed since Snyder returned to K-State after his initial retirement. K-State's offensive points per possession are also tracked in the following chart. Last season marked the first time since 2009 that K-State had a negative points per drive differential comparing the offense and defense.
K-State points per drive scored and allowed in 2015. National rankings are noted in parentheses next to the stat.
| | | | |
| --- | --- | --- | --- |
| Season | Offense Points Per Drive | Points Per Drive Allowed | Net Difference |
| 2015 | 2.24 (No. 55) | 2.60 (No. 101) | Negative 0.37 |
K-State points per drive scored and allowed from 2009-14. National rankings are noted in parentheses next to the stat.
| | | | |
| --- | --- | --- | --- |
| Season | Offense Points Per Drive | Points Per Drive Allowed | Net Difference |
| 2014 | 2.92 (No. 12) | 2.05 (No. 61) | 0.87 (No. 18) |
| 2013 | 2.89 (No. 16) | 1.83 (No. 33) | 1.06 (No. 20) |
| 2012 | 3.16 (No. 7) | 1.72 (No. 30) | 1.44 (No. 9) |
| 2011 | 2.66 (No. 21) | 2.33 (No. 78) | 0.34 (No. 45) |
| 2010 | 2.63 (No. 24) | 2.22 (No. 69) | 0.41 (No. 43) |
| 2009 | 1.71 (No. 86) | 2.19 (No. 70) | Negative 0.48 (No. 85) |
| Average | 2.66 | 2.06 | 0.61 |
Looking at the above chart, you'll notice how good K-State's offense was in efficiency from 2010-14. Take away 2009, and K-State averaged a national ranking of No. 16 in the country in points per drive. The Wildcats were middle of the pack on offense in 2015, which isn't bad considering the lack of explosiveness the unit possessed last season, coupled with injuries to the quarterback position. However, the 2.60 points per possession allowed was far too high. Look for that number to significantly improve in 2016.