Column: Unexpected run means Weber is likely to get one more shot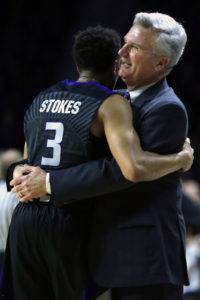 K-State is finally the basketball team its fans wanted it to be. So, now what?
On Feb. 25, less than three weeks ago, Kansas State lost by 30 points to last-place Oklahoma. The defeat, which was the Wildcats' eighth in their last ten games, appeared to be the final piece of evidence that change was coming for the program.
In the process, nearly all remaining supporters of head coach Bruce Weber finally concluded that his time had run its course. Overwhelmingly, according to polls on social media, K-State fans were ready for the next chapter.
And here we are. Just 18 days later, K-State is not only in the NCAA Tournament, but has a win under its belt already, and has a realistic chance of advancing again.
Over its last five games, K-State is 4-1, with three of those wins coming against solid teams. And the loss, a 51-50 setback to No. 11 West Virginia in the Big 12 semifinals, was not exactly disheartening.
It's not the results alone, however, that have many people rethinking their position on K-State's leadership moving forward. It's the way the Wildcats have won.
Player development is visible, at long last. Isaiah Maurice has emerged as a decent post option off the bench. Xavier Sneed is improving on the defensive end.
More importantly, the Wildcats are showing a toughness rarely seen in Manhattan since the last of Frank Martin's players left. Instead of playing the role of the victim, K-State finds anger and energy when things don't go their way.
Let's be clear: It is more than fair to wonder where this K-State team has been, both earlier this season and over the last couple years. Criticism for that is justified. And if the recent trends don't continue, Weber will be right back where he was a few weeks ago very quickly.
But as far as next season is concerned, it appears Weber will get another shot, no matter when or where this season ends.
That opportunity will come with a caveat, however.
The leash will be short. Patience will be thin. There will be no tolerance for a "rebuilding year" as Wesley Iwundu, D.J. Johnson and Carlbe Ervin depart, and K-State has big holes to fill if the Wildcats are going to be better next year.
Weber's final chance will not just be the result of his team's recent play, but also K-State's fluid athletic director situation and a rather underwhelming cast of legitimate coaching candidates.
K-State is finally the basketball team its fans wanted it to be all along. As the clock struck midnight, Weber found a way to change to status quo.
When and if it changes back, the outcome will probably be different.