Cats Open Big 12 Slate with Dillons Sunflower Showdown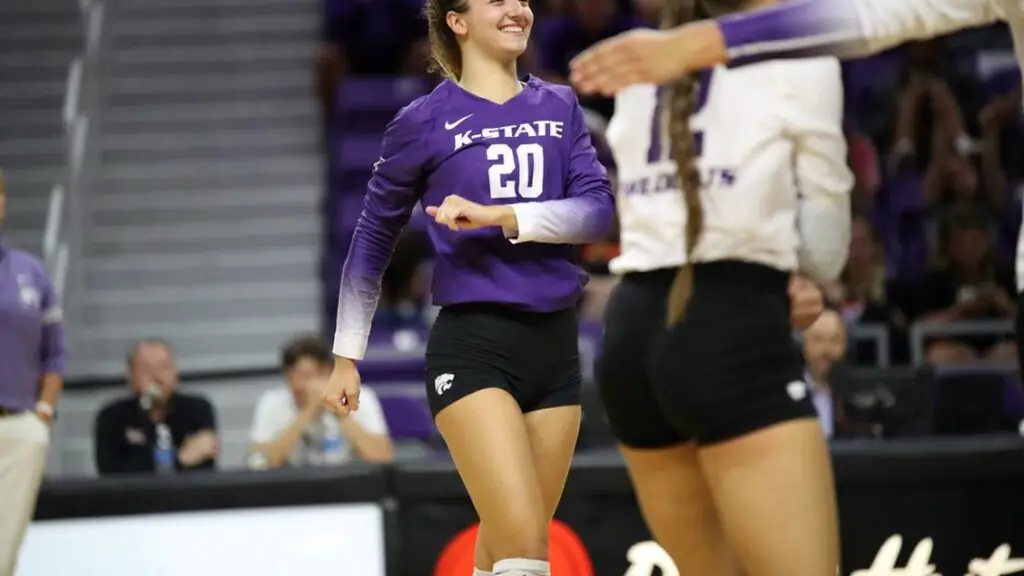 MANHATTAN, Kan. (Kansas State Athletics) – K-State begins its Big 12 schedule with the Dillons Sunflower Showdown, as Kansas visits Bramlage Coliseum Saturday at 4 p.m. for the 125th installment of the in-state rivalry.
K-State (9-4, 0-0 Big 12) looks to rebound after an 0-2 showing at the Rice Adidas Invitational last weekend to finish its non-conference slate. The Wildcats dropped a five-setter to host Rice before a four-set setback to 17th-ranked Creighton.
KU (10-3, 0-1 Big 12) kicked off its league schedule at home Wednesday against No. 1 Texas and saw the Longhorns erase a two-set deficit to defeat the Jayhawks in five sets. Kansas, who has been ranked as high as No. 19, dropped out of the latest AVCA coaches' poll and is unranked for the first time this season.
The Wildcats own a 67-56-1 edge in the Dillons Sunflower Showdown, including a 30-21 record at home. KU will be K-State's third consecutive opponent ranked or receiving votes in the AVCA coaches' poll.
Tickets start at just $5 when purchased in advance. A $15 t-shirt package is also available, which includes a general-admission ticket and an exclusive Wildcats lavender t-shirt. General-admission tickets are $8 at the Northwest and Northeast ticket windows on game days.
Saturday's match will air on Big 12 Now on ESPN+ and the ESPN app, with Brian Smoller and Liz Wegner-Busch on the call. Fans can also listen online to Rob Voelker's broadcast at K-StateSports.com/watch and the K-State Sports app.
MATCH #14
K-STATE (9-4, 0-0 BIG 12) vs. RV KANSAS (10-3, 0-1 BIG 12)
Saturday, Sept. 24 // 4 p.m. // Bramlage Coliseum // Manhattan, Kan.
Watch: Big 12 Now on ESPN+ // Brian Smoller, Liz Wegner-Busch
Listen: K-StateSports.com/watch // 1350KMAN.com // Rob Voelker
Tickets | Live Stats
K-STATE AT A GLANCE
K-State hosts in-state rival Kansas to open its Big 12 schedule Saturday at Bramlage Coliseum.
The Wildcats wrapped up the non-conference portion of their schedule last week with a sweep at Kansas City before a weekend at the Rice Adidas Invitational against Rice and Creighton.
While in Houston, the Cats fell to Rice, who is now in the nation's top 25, in five sets before dropping a four-set decision to then-17th-ranked Creighton in four sets.
Freshman Shaylee Myers led K-State's offense with 41 kills over 11 sets (3.73 per set) and produced her first career double-double with 17 kills and 10 digs against the Owls.
In total, three Wildcats turned in double-doubles against Rice, including Elena Baka (14 kills, 12 digs) and Loren Hinkle (41 assists, 11 digs).
With a 13-kill, 16-dig double-double against Creighton, Baka upped her team-leading total to five through 13 matches.
Libero Mackenzie Morris finished with 23 digs at Rice and 22 more against Creighton for her second and third 20-dig performances of the season and 14th and 15th of her career.
Morris' career dig total now sits at 982, as she now needs just 18 to join the 1,000-digs club at K-State.
The pair of losses in Houston marked the first time this season in which the Cats have lost consecutive matches.
SCOUTING KANSAS
After being ranked every week to start the season, Kansas dropped out of the AVCA top-25 poll Monday for the first time after going 2-1 at the Jayhawk Classic last weekend.
KU, who has been ranked as high as No. 19, sits just outside the nation's top-25 (26th) and is receiving votes.
The Jayhawks are coming off a five-set home defeat at the hands of No. 1 Texas Wednesday.
After starting the season 8-0, KU has gone 2-3 over its last five matches – all at home – including a straight-set loss to future Big 12 member UCF.
The duo of Caroline Bien and Ayah Elnady lead the Jayhawks' offense with 130 and 125 kills on the season, respectively, while no other player on Kansas' roster has more than 80 kills.
Middle blocker Lauren Dooley is second in the Big 12 with her .429 hitting efficiency while ranking fifth in the conference at 1.20 blocks per set.
Setter Camryn Turner ranks in the Big 12's top 10 in both assists per set (fifth) and digs per set (ninth).
INSIDE THE SERIES
Saturday's contest will mark the 125th all-time meeting between K-State and Kansas.
K-State owns 67-56-1 edge in the series which dates back to 1974, as the teams have met every season since the inception of the Wildcats' volleyball program.
K-State is 30-21 at home against its in-state rival, but lost both matchups at Bramlage Coliseum last season.
The Jayhawks have claimed four of the last five meetings and 11 of the last 15, spanning back to 2014.
Additionally, Kansas is 15-5 in the rivalry since the 2012 season.
The Cats last picked up a home win over Kansas in 2019, winning in five sets.
Four of the last seven matches have gone to five sets, while there have been six five-setters in the series since 2016.
There has not been a straight-set victory for either side since the 2016 season (11 matches).
The last three Wildcat victories in the Dillons Sunflower Showdown have come in five sets.
Head coach Suzie Fritz is 23-19 in her career against KU with a record of 11-10 at home.
ACES IN SPADES
K-State has racked up 98 service aces, which is tops in the Big 12 and ranks 10th nationally.
Additionally, the team's 2.00 aces-per-set average is 22nd nationally and best in the conference.
Elena Baka is the team leader with 22 aces to rank third in the Big 12 and 28th in the country while Sydney Bolding's 20 aces are fourth in the league and 54th-most in the nation.
Baka has logged multiple aces seven times this season while Bolding has produced a career-best four aces twice this season.
Five times the Cats have eclipsed the 10-ace mark, including in back-to-back matches at the UCF Challenge with 11 against Syracuse and a season-high 12 vs. North Florida.
The 12 aces were the most in a three-set match since the 2007 season and were tied for fourth-most in the rally-scoring era.
It was the first time K-State produced back-to-back matches with at least 10 aces since 2007.
Last season, K-State finished with 10 or more aces just twice.
Additionally, the five matches with 10 or more aces are the most since a rally-scoring-record seven matches in 2007.
Currently, three Wildcats make up the league's top 10 in aces per set: Baka (fourth), Bolding (fifth), and Hinkle (10th).
IMMEDIATE IMPACT
Senior transfer Elena Baka has had an immediate impact through 13 matches with the Wildcats.
Playing six rotations, Baka leads the team in total kills with 149 while hitting at a .200 efficiency along with a team-high 22 aces.
The Saint Mary's transfer set a career-high with 19 kills against UCF on the way to her second straight all-tournament team selection.
She has a team-leading five double-doubles on the season and turned in a double-double in back-to-back matches at the Rice Adidas Invitational.
Her 22 aces are third-most in the Big 12, as she has served up multiple aces seven times – including in each of K-State's first five contests.
BOLDING BREAKING OUT
Senior middle blocker Sydney Bolding is off to a fast start for K-State in 2022, hitting .338 and averaging 1.98 kills per set with 1.33 blocks per set and 20 aces.
Bolding twice produced four aces this season, with four against Missouri and four coming in the first set alone against St. Thomas.
The four aces matched a career high, as she has six matches with multiple aces this season (two such matches last season).
She was named to the Rambler Challenge All-Tournament Team, her second all-tournament team selection after also being voted to the K-State Invitational All-Tournament Team.
Bolding, who missed the first three weeks of the 2021 season due to injury, turned in a season-high eight blocks against Kansas City.
The Pickens, South Carolina, product has eclipsed double-figure kills four times this season and has hit .350 or better five times, including a career-best .588 at Rice.
Against NC State, she set a career high with 13 kills while also totaling seven blocks.
THE MACK ATTACK IS BACK, JACK
K-State junior libero Mackenzie Morris sits just 18 digs away from joining the 1,000-digs club.
If she reaches the 1,000-dig mark Saturday against Kansas, Morris will be the fastest player in program history (rally-scoring era) to reach the milestone, doing so in just 63 matches.
Earlier this season, Morris set a career high with 25 digs against UCF.
The Dallas native is coming off back-to-back 20-dig performances at the Rice Adidas Invitational, as she now sits at 15 career matches with at least 20 digs (fourth-most in program history).
Currently, she is one of just two players in the rally-scoring era to average over 4.00 digs per set (Angie Lastra, 4.37).
SAY HEY, SHAY
K-State freshman Shaylee Myers has made the most of her opportunities this season, hitting .335 while averaging a team-best 3.93 kills per set.
Six times she has eclipsed double-figure kills, with a season-high 23 coming in a five-set win over Missouri on Sept. 7.
The 23 kills are the highest single-match total of any Wildcat this season.
Myers produced her first career double-double at Rice last weekend, logging 17 kills and 10 digs.
She has led or tied for the team lead in kills five times, including three of the last four matches.