Broadcast Schedule Announced for 2022 Volleyball Season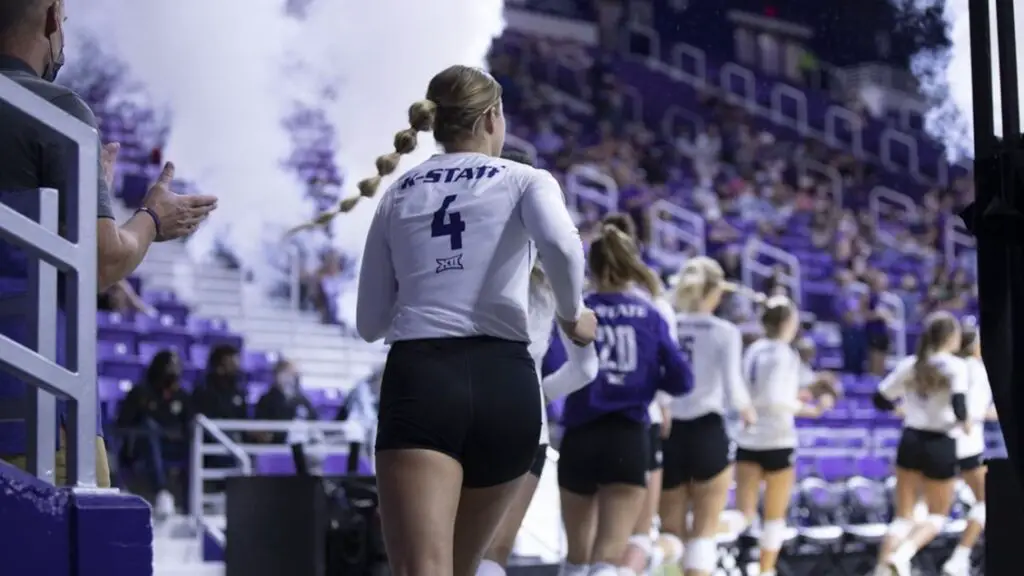 MANHATTAN, Kan. (Kansas State Athletics) – K-State volleyball will have all 12 home matches broadcast across multiple platforms in 2022, including a nationally televised match on ESPNU against Iowa State, K-State Athletics and Big 12 Conference officials announced Friday.
Beginning with the home opener at Bramlage Coliseum on August 26, K-State's Emmy-winning K-StateHD.TV department will produce every home contest streamed on Big 12 Now on ESPN+.  The Wildcats and Cyclones nationally televised match on ESPNU on Sunday, October 2 at 3:30 p.m. will also be produced by K-StateHD.TV.
The broadcast team of Brian Smoller and former Wildcat two-time All-American Liz Wegner–Busch are back to call the action on Big 12 Now on ESPN+. Fans can listen to Rob Voelker call every K-State volleyball match – home and away – on News Radio KMAN (93.3 FM, 1350 AM) and online at K-StateSports.com/watch.
Big 12 Now on ESPN+ is accessible to subscribers through the ESPN+ tab of the latest version of the ESPN app, on the web, iPhone, iPad, Apple TV (Generation 3 & 4), Android Handset, Roku, Chromecast, Fire TV, Xbox, PlayStation, Oculus Go and Samsung connected TVs (Tizen). Big 12 Now on ESPN+ is currently available for $6.99 per month or $69.99 per year or can be bundled with Disney+ and Hulu for $13.99 per month and can be canceled at any time. As of Tuesday, August 23, the price of ESPN+ increases to $9.99 per month or $99.99 per year with the bundle price increasing to $19.99.
K-State officially begins its 2022 campaign on Friday, August 26 as the Wildcats host the annual K-State Invitational. Over two days, the Cats will face Sam Houston, NC State and Florida A&M at Bramlage Coliseum.
Additionally, 12 road matches will be broadcast on multiple platforms, as every Big 12 road tilt can be seen on ESPN+ with the exception of the October 12 contest at Texas (Longhorn Network).
Non-conference road matches that can be streamed include September 3 at UCF (ESPN+), September 9 at Loyola Chicago (ESPN+), September 14 at Kansas City (KCRoos.com) and September 16 at Rice (CUSA TV).
Season tickets and single-match tickets are now available through the K-State Athletics Ticket Office can be purchased online at K-StateSports.com/Tickets or by phone at 1-800-221-CATS.
2022 K-State Volleyball Broadcast Schedule
| | | | | |
| --- | --- | --- | --- | --- |
| Date | Day | Opponent | TV | Time (CT) |
| Aug. 26 | Fri | SAM HOUSTON | Big 12 Now on ESPN+ | 12 p.m. |
| Aug. 26 | Fri | NC STATE | Big 12 Now on ESPN+ | 7:30 p.m. |
| Aug. 27 | Sat | FLORIDA A&M | Big 12 Now on ESPN+ | 12:30 p.m. |
| Sept. 3 | Sat | at UCF | ESPN+ | 6 p.m. |
| Sept. 7 | Wed | MISSOURI | Big 12 Now on ESPN+ | 6 p.m. |
| Sept. 9 | Fri | at Loyola Chicago | ESPN+ | 7:30 p.m. |
| Sept. 14 | Wed | at Kansas City | KCRoos.com | 7 p.m. |
| Sept. 16 | Fri | at Rice | CUSA TV | 6 p.m. |
| Sept. 24 | Sat | KU* | Big 12 Now on ESPN+ | 6:30 p.m. |
| Sept. 28 | Wed | at Texas Tech* | Big 12 Now on ESPN+ | 6 p.m. |
| Oct. 2 | Sun | IOWA STATE* | ESPNU | 3:30 p.m. |
| Oct. 5 | Wed | at West Virginia* | Big 12 Now on ESPN+ | 5 p.m. |
| Oct. 12 | Wed | at Texas* | Longhorn Network | TBD |
| Oct. 15 | Sat | TCU* | Big 12 Now on ESPN+ | 6:30 p.m. |
| Oct. 19 | Wed | at Oklahoma* | SoonerVision on ESPN+ | 6 p.m. |
| Oct. 22 | Sat | BAYLOR* | Big 12 Now on ESPN+ | 1 p.m. |
| Oct. 28 | Fri | TEXAS* | Big 12 Now on ESPN+ | 6:30 p.m. |
| Nov. 2 | Wed | at KU* | Big 12 Now on ESPN+ | 6:30 p.m. |
| Nov. 4 | Fri | at Iowa State* | Big 12 Now on ESPN+ | 6:30 p.m. |
| Nov. 10 | Thu | WEST VIRGINIA* | Big 12 Now on ESPN+ | 6:30 p.m. |
| Nov. 16 | Wed | OKLAHOMA* | Big 12 Now on ESPN+ | 6:30 p.m. |
| Nov. 19 | Sat | at TCU* | Big 12 Now on ESPN+ | 2 p.m. |
| Nov. 23 | Wed | TEXAS TECH* | Big 12 Now on ESPN+ | 6:30 p.m. |
| Nov. 26 | Sat | at Baylor* | Big 12 Now on ESPN+ | 1 p.m. |
*Big 12 match
Home matches in BOLD
Dates and times subject to change